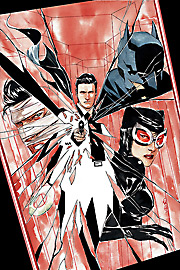 If you've missed Bruce Wayne as Batman in the pages of his own comics as much as I have, Streets of Gotham #17 is everything you've been waiting for and a few things you didn't even know how to want yet.
Not to mention it was written by the legendary Paul Dini, who once told me during the interview I did with him for Impact that a great Batman story only needs one thing — Bruce Wayne.
This issue continues Dini's House of Hush storyline, which is a sequel to his amazing Heart of Hush that I'm begging you to buy right here.
(Or, if you're in the southern Indiana area, from your local comic shop. Tell George that John Bierly sent you.)
You can find my review on Batman on Film, and thanks as always to Jett and BOF for the opportunity!