Way back in March, my friend Melissa and I started the Weekly Bargain Movie Experiment of 2007. The idea grew out of our previous experience seeing (but not enjoying) Marie Antoinette at the Village 8, and the mandate was simple — we weren't looking for the best movies, just the cheapest.
The first two movies we saw were really awful:
Movie Review: Because I Said So
Movie Review: Catch and Release
… but the third one was pretty good:
Movie Review: Black Snake Moan
But we both got busy, and the Weekly Bargain Movie Experiment of 2007 stalled down to a halt. In fact, I've seen lots more movies lately with Melissa's fiancé, Mike, than I've seen with Melissa:
Movie Review: Live Free or Die Hard
So tonight we finally got a chance to catch a cheap movie at the Greentree 10 in Clarksville.
The evening began at the ever-reliable Chick-fil-A. Mike joined us for dinner before heading off to Air National Guard duty in Fort Wayne (where I'll actually be heading tomorrow myself with the Nevilles for our friend Justin's wedding). Melissa got a chicken wrap that tasted "like school cafeteria food," but Mike and I enjoyed our combos of 12 savory chicken chunks, waffle fries and slaw. We also dazzled Melissa — is that the right word? — with our hopes, dreams and fears for the next (and final) Harry Potter book that comes out next week.
After Mike left, Melissa and I zapped on over to the theater.
The tickets?
$1.50 each.
The movie?
Waitress, starring Keri Russell.
The verdict?
We liked it!
Waitress was written and directed by Adrienne Shelley, who was tragically murdered last November by an intruder in her New York home. With Waitress, she leaves behind a bittersweetly beautiful little movie about finding happiness in your life and dealing with the unexpected happenings that get you there.
As I've mentioned before in these reviews, there are certain trade-offs to seeing movies for $1.50 and the cleanliness of the theater is often the big one. Luckily the Greentree 10 is relatively clean and, as always, the trick is finding a pair of seats least likely to have been used by teenagers to make babies. We were greeted as always by Cinemark's massively classy FirstLook feature, which replaces the typically lame pre-movie commercials and recycled trivia questions with extended trailers featuring behind-the-scenes footage and cast/crew interviews. Unfortunately the sound must have been broken, and it didn't come on until the movie started. Oh, well. That's what you get for $1.50.

Keri Russell, Adrienne Shelley and Cheryl Hines
After an opening credits sequence of the best-looking pies you've ever seen being made, Waitress begins with three waitresses — Jenna (Russell), Becky (Cheryl Hines) and Dawn (played by writer/director Shelley herself) — huddled in the bathroom of the little roadside diner they work in. Jenna has just gotten the worst possible news from a pregnancy test confirming that she's indeed with child after the one night six weeks ago that her cruel, abusive husband, Earl (Jeremy Sisto), got her too drunk to fight him off.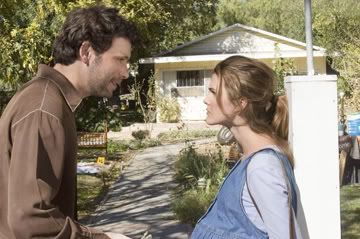 Jeremy Sisto and Keri Russell
Earl is the worst kind of awful. On the outside he's all bark and bite, but on the inside he's a pathetic, tiny-minded coward who buries his own insecurities and insanities behind blustery acts of anger and violence against his wife. Here and there there's an actual glimpse of the decent person Jenna married before he went nuts, and it's a huge testament to how awesome Sisto's acting is in those moments when you can actually feel a little for the guy despite how truly disgusting he is in every other scene. (For example, Earl is sincerely terrified that Jenna might love the baby more than she loves him.) Sisto's perfectly scary when Earl is angry, but it's the subtle ways in which he shows Earl's vulnerabilities that really make his performance.
A baby on the way means that Jenna's years of living in denial about how unhappy she is are over, and she immediately feels trapped and terrified. But she finds two people who truly believe in her in ways she never thought possible.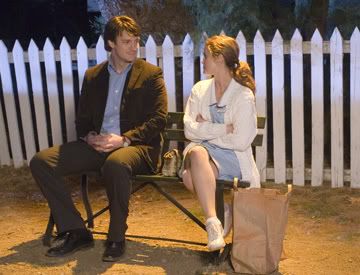 Nathan Fillion and Keri Russell
The first is Dr. Pomatter, the sweet, nervous new doctor in town who guides her through her pregnancy. He's played here by Nathan Fillion, a guy I'm a huge fan of. He's best known for his work as Captain Mal Reynolds on the television series Firefly, which was prematurely canceled by Fox because they're too busy telling lies on their news network and sending Bill O'Reilly to yell at people under manufactured pretenses to actually encourage and nurture decent programming. (At least Fillion, series creator Joss Whedon and the rest of the show's cast got to continue the story in the show's spin-off movie, Serenity.) Fillion's a leading man if there ever was one, exuding a particularly accessible brand of goodness. He does excellent work in Waitress and shares a natural kind of chemistry with Russell that all the budgets in Hollywood couldn't buy.
The other is Old Joe, who owns the diner Jenna works at and comes by every morning for breakfast. Old Joe is played by — wait for it, wait for it — Andy Griffith! It's honestly-to-goodness the best work I've ever seen him do, and that's really saying something.

Keri Russell and Andy Griffith
Old Joe annoys the living hell out of Becky, so she sends Jenna over to take his order one morning. As the months of Jenna's pregnancy go by, their friendship deepens as Old Joe tries to share with her the kinds of stories and advice that might have once changed the course of his own life so many years ago had he had someone to impart them. Joe is at once a gentleman and a rascal, and Griffith hands in a career-defining turn.
The rest of the cast is just as solid. Cheryl Hines is sassy and sexy as Becky, who's like a modern-day Flo (from the long-ago television series Alice). Lew Temple is really good as Cal, the diner's tough-as-nails chef who's harsh on the outside but not such a bad guy underneath.There's a really sweet subplot involving Dawn and her odd but big-hearted suitor, Ogie (Eddie Jemison). As Dawn, Adrienne Shelley brings the same kind of sweetness and vulnerability to her acting as she did to writing and directing the movie itself. Eddie Jemison has starred alongside George Clooney and Brad Pitt three times as a member of Danny Ocean's team of swindlers, and here he steals every single scene he's in. The spontaneous poems Ogie composes on the spot for Dawn are priceless, and Jemison delivers them hilariously.
And then there's Keri Russell, who left me infinitely impressed. Russell's work is pretty new to me; I've never seen a second of Felicity and she was barely in Mission: Impossible III. She sells Jenna's sadness and fears like a pro, but in Jenna's moments of clarity she smiles more warmly than the big old oven baking all those amazing pies she's constantly creating. Shelley's script is really good but emotionally complicated, and Russell navigates it with skill that's every bit as beautifully defined as her lovely face and gorgeous eyes. (And she doesn't just make pies and think about pies. She sings about pies. I'm in love.)
Waitress addresses tough themes of fear and happiness, but presents them in a way that's mostly light-hearted and ultimately hopeful. Melissa and I liked it a lot, bringing the Weekly Bargain Movie Experiment of 2007 to 2-2.