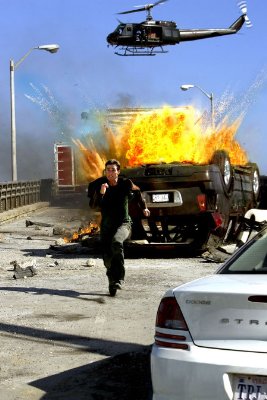 The first two Mission: Impossible movies were a little too pretentious for my tastes.
But along came the trailer for Mission: Impossible III, which felt … different. In a good way.
And when the movie arrived in May 2006, it immediately became one of my favorite action movies of all time.
(My original review is here.)
Just as he'd later do with Star Trek, director (and co-writer) J.J. Abrams stripped down the M:I concept to its best and most basic elements, jacked up the action, gave it a lot of heart, and made me care about its characters as actual human beings. The team felt like a family. And the Chesapeake Bay Bridge assault remains one of the most bad-ass action scenes I've ever seen.
That's why it's good news to me that Tom Cruise has signed a deal with Paramount for Mission: Impossible IV. Cruise will also co-produce the film with Abrams, who won't be in the director's chair this time. I just hope that whomever they choose as the new director will bring the same levels of energy that Abrams did.
Cruise and Abrams broke the story, with the script to be written by André Nemec and Josh Appelbaum.
No word yet on whether Ving Rhames, Laurence Fishburne, my fantasy girlfriend Michelle Monaghan, or any of the other previous M:I cast members will be joining Ethan Hunt's latest mission. More to come as it happens!