My dad and I have a really hard time during the 39 weeks each year that don't have a new episode of the excellent FX series JUSTIFIED, so I'm pretty excited that filming of its fourth season begins next week in Santa Clarita, California, for an early 2013 premiere.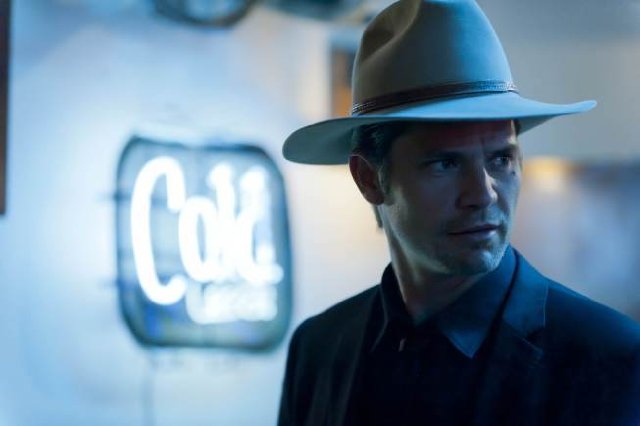 The news comes from Matt Mitovich over at TV Line, who also exclusively reports that Patton Oswalt (IMDb) is joining the cast "as Bob Sweeney, a local constable who went to high school with Raylan and has been hired by the lawman to watch Arlo's house."
Do you think this might be the role originally intended for MODERN FAMILY's Eric Stonestreet, per JUSTIFIED boss Graham Yost's April interview at The Wrap? Probably not, because it sounds like Yost had a bad guy in mind for Stonestreet. It also makes me wonder if they've reached out yet to Jeff Goldblum, who was also on Yost's wish list. That would be phenomenal.
And even though David Meunier (IMDB) is busy on NBC's REVOLUTION, The Hollywood Reporter says he'll still find time to appear as Johnny Crowder in 10 of JUSTIFIED's 13 fourth season shows. Which is good, because Johnny's double-crossing of Boyd in the third season finale isn't likely to be taken lightly when it comes to light.
Meanwhile, Andrea Reiher at Zap2It has revealed her own mountain of news about new and returning characters.
"Colt" is a Desert Storm veteran and former MP who served with Boyd in Kuwait and joins up with Boyd's backwoods brotherhood upon his return home to Harlan County. And then there's Knoxville bail bonds-woman "Sharon Edmunds," who's apparently being set up as a potential love interest for Raylan now that Winona's gone again (though I really wish they'd bring back Carla Gugino as Karen Sisco).
Among all the other new character news in Andrea's scoop (and there's a lot of it), this one stands out as the most intriguing:
Turning to what is possibly the season-long adversary, Billy St. Cyr will come into play in Harlan County. He's a young, charismatic preacher at the Holy Ghost Revival Church in Black Lick Holler. His "saving" of local drug addicts is rather hilariously cutting into Boyd's business, which Boyd is not OK with. In fact, Boyd is particularly annoyed with Hiram Pugh, a once wild drug addict turned pious man who was "saved" by Billy. Since Pugh is no longer afraid to die, he refuses to pay up to Boyd. Which should end well for all involved.

The Holy Ghost Revival is the whole nine yards — people speaking in tongues, snake bites, the works. Billy's partner in this revival endeavor is his older sister Cassie, who is a little rougher around the edges than her baby brother. She'll do anything to protect him and his church.
A preacher who's trying to out-Boyd Boyd? I love it already. I'm happy to read that adorable Abby Miller's Ellen May will be back for more hooker shenanigans, too.
And of course there's always room for more of Raylan's boss Art and fellow Marshals Rachel and Tim, so hopefully we'll see more of them than we did in Season Three.
With all these new faces in play, casting news should start rolling in soon!
In a related story, I'm still furious about Trooper Tom Bergen. And we need more Wynn Duffy, please, because Jere Burns (IMDB) was especially amazing last season, particularly when discussing women's tennis with that a twinkle in his eye and a leer in his grin. Oh, and more Dewey Crowe! This show is just too good.
---
UPDATED to link to this hilarious video of Timothy Olyphant on Conan last night. Great stuff. This one is really good, too! And this one from January, which may be my favorite.