The best entertainment thing that happened to me in 1983 was RETURN OF THE JEDI.
Running an uncomfortably close second was MANIMAL, which aired only eight episodes during the fall season on NBC.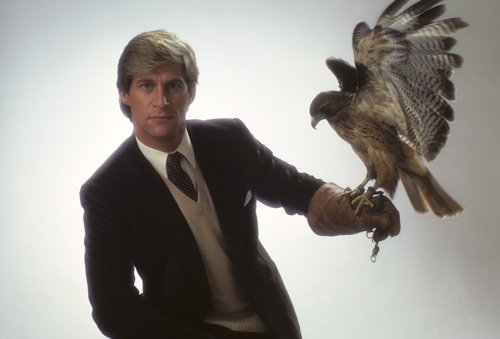 MANIMAL … was … awesome. Simon MacCorkindale played a college professor named Jonathan Chase who could transform into any animal at will. While most Manimals would use their powers for evil, Chase chose instead to help the NYPD solve unusual cases by turning into the most appropriate critter for the crime. His partners were his buddy Tyrone (played by '80s underdog Michael D. Roberts) and sassy detective Brooke McKenzie (brought to life by the supremely pretty Melody Anderson).
My clearest MANIMAL memory was playing our very own NBC Prime Time version of THE EXPENDABLES with Kevin Liebert on a school trip to ride the Dinky Train in Corydon (which anyone who went to elementary school in southern Indiana will happily remember). Kevin was Michael Knight from KNIGHT RIDER, and I was Jonathan Chase. I'd fold down my fingers against my palm and tense the tops of my hands and pretend I was turning into a panther. I can't remember what mystery we were solving on the train that day, or which other animals I decided were best for the task, or how mentally ill my classmates probably thought I was, but I know we had a fun time.
The Hollywood Reporter says that Sony Pictures is developing a hybrid CGI/live action movie version of the show with original series creator Glen A. Larson. (Seriously, click that link. Larson is a living legend.)
I guess that's fine, but who will they cast as Jonathan Chase? Who is the modern day Simon MacCorkindale? The answer is "no one," but maybe Guy Pearce could do it. Possibly also Michael Fassbender. (Update! If they took away Chase's British lineage, Aaron Eckhart would be great. He even looks a little like MacCorkindale.)
On a sad note, Mr. MacCorkindale passed away after a long battle with bowel cancer two autumns ago. He was all over TV and the movies in the '80s, including a really fun role in THE SWORD AND THE SORCERER. Check out his IMDB profile, on which you'll learn he played a character named "Gaylord Duke" on an episode of THE DUKES OF HAZZARD titled "Duke of Duke."
For more information about MANIMAL, take a look at its IMDB and Wikipedia pages.