(I originally wrote a version of this for Modern Myth Media.)
TV Guide has exclusively revealed the identity of the man who'll voice the Joker in the two-part animated adaptation of THE DARK KNIGHT RETURNS.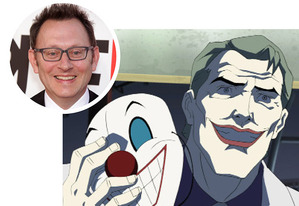 Michael Emerson (IMDb), who stars as mild-mannered, big-brained Machine mastermind Mr. Finch in the hit CBS series PERSON OF INTEREST (which is a huge hit in my household and has its first season available on Blu-ray today), will bring the Crown Prince of Crime to undoubtedly creepy and charismatic life with his distinctive vocal gifts.
Perhaps not entirely coincidentally, PERSON OF INTEREST was created by Jonathan Nolan (IMDb), who helped his big brother deliver us a certain superhero franchise that just clocked its second billion-dollar-earning entry. If you need a weekly dose of the trademark Nolan mix of action and morality offered by the Batman films, be sure to tune in for the premiere of the second season on September 27!