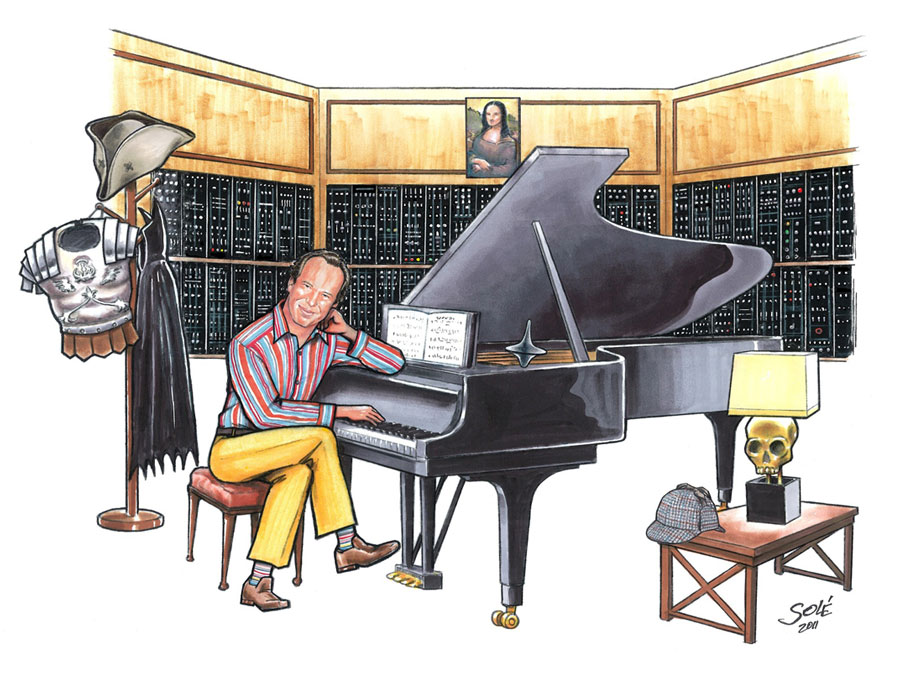 In December 2010, I wrote a hard-hitting investigative piece debunking a rumor that Academy Award winner (and consistent nominee) Hans Zimmer (IMDb) was definitely going to score the Christopher Nolan-produced, Zack Snyder-directed Superman relaunch, MAN OF STEEL, based solely on a comment he made. At the time, Zimmer was only thinking out loud when asked about the possibility, but several sites ran with it as if it were gospel.
As of this week, it is.
Variety reports that Nolan's go-to musical maestro will indeed score MAN OF STEEL. Zimmer hasn't spoken publicly yet about getting the gig, but we can revisit the composer's original pondering that started the rumor mill churning way back in 2010:
"It's a hard one," mused Zimmer, "but I followed one of the most iconic things on 'Batman' with Chris as well, and it's the same thing. You are allowed to reinvent, but you have to try to be as good or at least as iconic and it has to resonate and it has to become a part of the zeitgeist. That's the job. On 'Gladiator' I remember people always talking about 'Spartacus' and I kept telling them, 'When you saw 'Spartacus' and how it affected it you, that's how I want a modern audience to be affected by what we do now.' So I think ultimately you're supposed to reinvent."
My fellow Gentlemen and I spoke at length about this in a recent podcast. MAN OF STEEL needs to have its own theme. On the other hand, it needs to be as big and as iconic as the infinitely memorable John Williams score (which remains my favorite movie music of all time). Based on his track record, Zimmer will undoubtedly deliver.
Still no official word on when we'll get our first trailer, but the good folks at Warner Bros. do have a Batman movie coming out in a month … and we'd still love to see an IMAX prologue before THE HOBBIT in December.
MAN OF STEEL stars Henry Cavill as Superman/Clark Kent, Amy Adams as Lois Lane, Michael Shannon as General Zod and Antje Traue as his evil lieutenant Faora, Diane Lane and Kevin Costner as Clark's adoptive Earth parents Martha and Jonathan Kent, Russell Crowe and Ayelet Zurer as his biological family Jor-El and Lara Lor-Van, Laurence Fishburne as Daily Planet editor Perry White, Richard Schiff as Dr. Emil Hamilton, and Christopher Meloni and Harry Lennix as military men called in to see what all these flying space people are carrying on about. And that's how you cast a movie.