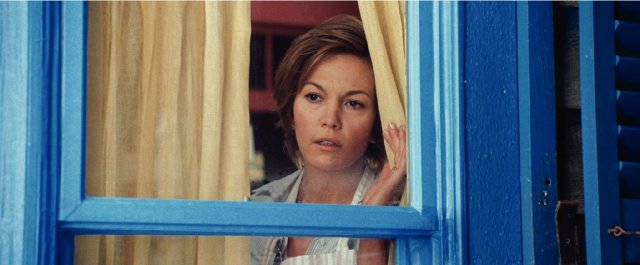 And so we get our second piece of official Superman movie casting — lovely Diane Lane is joining the cast as the Man of Steel's adoptive Earth mother, Martha Kent.
Here's Warner Bros.' press release:
BURBANK, CA, March 2, 2011 – Warner Bros. Pictures and Legendary Pictures announced today that Oscar®-nominated actress Diane Lane will play Martha Kent, the only mother Clark Kent has ever known, in the new Superman movie to be directed by Zack Snyder.

Snyder stated, "This was a very important piece of casting for me because Martha Kent is the woman whose values helped shape the man we know as Superman. We are thrilled to have Diane in the role because she can convey the wisdom and the wonder of a woman whose son has powers beyond her imagination."

Lane will star with Henry Cavill, who was recently announced as the new Clark Kent/Superman.

Lane earned an Academy Award® nomination for her performance in the 2002 drama "Unfaithful." She most recently starred in the family hit "Secretariat." She next stars in the HBO feature "Cinema Verite," opposite Tim Robbins and James Gandolfini. Lane's long list of film credits also includes "Nights in Rodanthe," "Hollywoodland," "Must Love Dogs," "Under the Tuscan Sun," "Perfect Storm," "My Dog Skip," "Chaplin," "The Cotton Club" and "A Little Romance," to name only a portion.

Charles Roven, Emma Thomas, Christopher Nolan and Deborah Snyder are the producers of the film. The screenplay is being written by David S. Goyer based on a story by Goyer and Nolan. Thomas Tull and Lloyd Phillips are serving as executive producers.

Slated for release in December 2012, the new Superman movie will be distributed worldwide by Warner Bros. Pictures, a Warner Bros. Entertainment Company.
So I wonder if we'll be seeing any flashbacks in this, or any scenes of Clark as a child? After all, Lane is only 19 years older than Henry Cavill, who's playing Clark.
Kevin Costner is in negotiations to play Martha's husband, Jonathan. Lane and Costner are phenomenal actors, and this kind of castings bodes remarkably well for the new movie.
Viggo Mortensen and Daniel Day-Lewis are also reportedly being courted for roles, as well; Mortensen as General Zod and Day-Lewis presumably as Jor-El.
That's a lot of talent. Can't wait to see how this one continues to come together!