WHAMMY!
I'm kind of hyperventilating a little bit and possibly a lot — Warner Bros. has dropped a HUGE bomb of awesome with the first official casting news for The Dark Knight Rises.
Here's the press release:
BURBANK, CA, January 19, 2011 – Warner Bros. Pictures announced today that Anne Hathaway has been cast as Selina Kyle in Christopher Nolan's "The Dark Knight Rises." She will be starring alongside Christian Bale, who returns in the title role of Bruce Wayne/Batman.

Christopher Nolan stated, "I am thrilled to have the opportunity to work with Anne Hathaway, who will be a fantastic addition to our ensemble as we complete our story."

In addition, Tom Hardy has been set to play Bane. Nolan said, "I am delighted to be working with Tom again and excited to watch him bring to life our new interpretation of one of Batman's most formidable enemies."

Nolan will direct the film from a screenplay he wrote with Jonathan Nolan, from a story by Christopher Nolan and David S. Goyer. Nolan will also produce the film with his longtime producing partner, Emma Thomas, and Charles Roven.

"The Dark Knight Rises" is slated for release on July 20, 2012. The film will be distributed worldwide by Warner Bros. Pictures, a Warner Bros. Entertainment Company.
I love it. I already can't get enough of it.
Tell me she doesn't look like a Tim Sale drawing from The Long Halloween in this picture:

I'm so excited. She'll be amazing. Like I said in this article back in November, Hathaway has so much appeal and so much talent. I can't wait to see her tap into her dark side.
And as for Hardy … BAM! BANE! Bane is like a dark mirror of what Bruce Wayne could have become had he gone down the wrong path. It will be fascinating to see how Nolan plays Bane against Batman, especially given that most of Gotham now thinks Batman is a murderer and a cop killer.
And what role will Selina Kyle play in Bruce Wayne's redemption?
More news will undoubtedly follow soon! Keep your eyes on Batman on Film for all the best and brightest news and opinion you'll ever need for this movie!
---
EXCLUSIVE UPDATE!
We asked Christian Bale what he had to say about this news: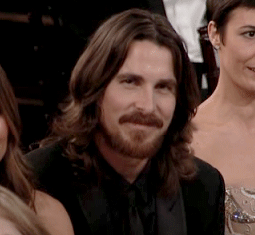 (Courtesy of Miranda Fox, who is indeed a fox.)