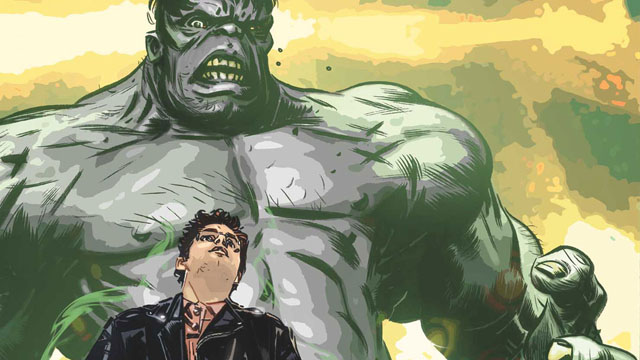 Remember when we talked about the possibilities of Wonder Woman and the Hulk coming back to a television screen near you?
Deadline reports the huge and incredibly good news that Guillermo del Toro (who directed the Hellboy movies my dad and I love so much along with so many other imaginative films) is joining Battlestar Galactica executive producer David Eick as co-creator of the new Incredible Hulk series being developed for ABC.
Del Toro excels at finding the humanity inside of even the most fantastic monstrosity, while Eick's sensibilities helped guide the Galactica crew through one impossible moral dilemma after another. The Hulk represents a dream-team project for these guys if there ever was one, and I can't wait to see how it shapes up.
The article bears some early clues:
Unlike the two Hulk movies, in which the monster was a pure CGI creation, the series will employ a mixture of prosthetics, puppetry and CGI. Del Toro and Eick will break the story for the pilot script together, sharing story and created by credit. Eick will write the script, with del Toro attached to direct subject to his availability. Del Toro will also oversee the designing of the Hulk character, which is expected to draw on previous comic book incarnations, as well as the original 1978-82 Incredible Hulk TV series, with a few wild tweaks on the old look.
Given the fact that neither of the big-screen Hulks were flawless examples of CGI, it seems like an awfully tall order to expect a television budget to be able to afford a believable digital Hulk week after week. But just look at the documentaries on the Hellboy II Blu-Ray to find countless examples of Del Toro using practical effects to accomplish creatures that look, move, and feel more real than any computer creation.
(And if they're looking to hire an actor to play the Hulk, I'd like to suggest the current Mr. Universe, Alexander Nevsky. He has lots of acting and producing experience, and he's massive, and he's got the publicity of a big bodybuilding win behind him.)
Del Toro says, "I have always been attracted at the combination of comic book heroics and monsters," adding that he even wanted to make a Hulk movie in 2002. Ang Lee made it instead, and I'm still trying to forget it. He believes he and Eick have "coalesced a respectful but powerful way of retelling the Banner/Hulk story in a fresh way."
Eick adds, "I've enjoyed the challenging, rewarding process of revisiting beloved characters," adding that the Hulk is "one of the crown jewels of the Marvel world for generations."
They're certainly talking the talk. Now it's time to walk the walk, and I hope they remember all the things that made the original series so timeless in the first place.