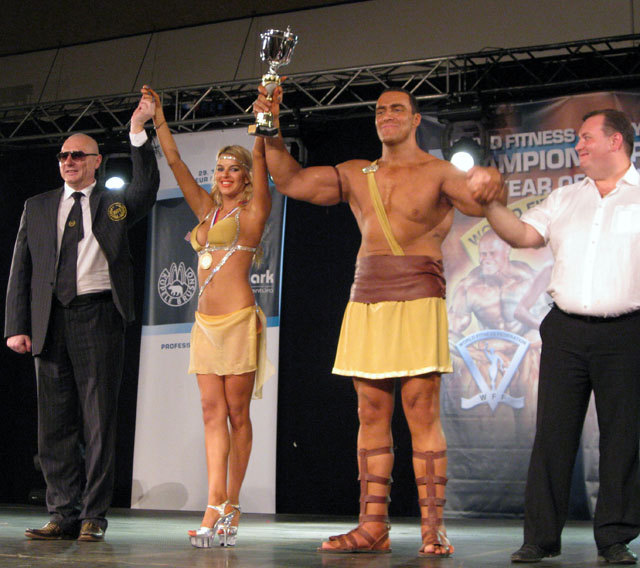 On October 30, my good friend (and soon to be my producer) Alexander Nevsky defeated 300 competitors to be crowned Mr. Universe.
And here's a photo he sent me with his trophy in hand! The lovely lady standing beside him is Oksana Sidorenko, who just won the World Fitness Championship herself.
My writing partner Kevin Rice and I are writing Alexander's upcoming Hercules movie, and I'm so excited I can't stand it. (As you can see from his outfit, his winning program was based around the heroic exploits of Hercules.)
Some of the greatest bodybuilders in history have played Hercules on the big screen, including Lou Ferrigno and former Mr. Universe winners Steve Reeves and Arnold Schwarzenegger. Our movie will be filled with muscles, magic, swords, monsters, and mythology … and I can't wait to tell you everything about it.
Hopefully soon. In the time since Alexander asked Kevin and me to write the movie, he has produced and starred in the movie Magic Man (which I got to visit the set of back in 2008), promoted the international theatrical and DVD releases of his movie Treasure Raiders, written and promoted a best-selling book on women's fitness in Russia, filmed a role in the movie Somewhere by Sofia Coppola (The Virgin Suicides, Lost in Translation), trained for/competed in/placed in the top five in the Russian version of Dancing with the Stars (in which Ms. Sidorenko was his dancing partner), promoted the theatrical release of Magic Man in Russia, and finally trained for — and won! — the Mr. Universe competition a couple of weeks ago.
After some promotion of the U.S. DVD release of Magic Man in early January, we should be ready to get some more movement on Hercules. More news on that and all of Alexander's other international exploits as it happens! I think 2011 is going to be a wild, busy year. And I like that. A lot.