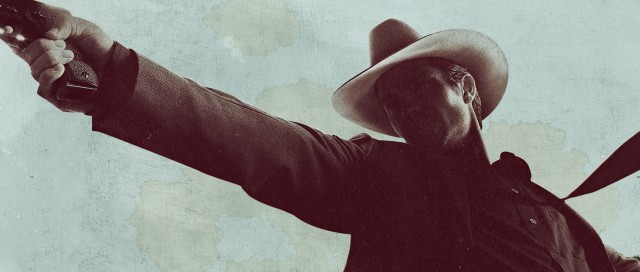 Did you catch Timothy Olyphant on The Office last night? You can watch it here if you didn't; it was the show's first episode in quite some time that I was able to maintain a consistent interest in from start to finish. Olyphant will also appear in next week's Halloween episode.
News on my favorite current gig of his, the FX series Justified, is finally beginning to filter in as the show gears up for the launch of its second season in February. Check out The Hollywood Reporter to read all about the news that Jeremy Davies has been cast as a recurring villain with an interesting connection to U.S. Marshal Raylan Givens's past:
Davies plays "Dickie Bennett," the smartest of three brothers and a high school rival of Givens. Since Prohibition, the Bennett and Givens families have warred like the Hatfields and McCoys. Dickie's family traffics in weed, for which Bennett spent time in prison. He still walks with a limp due to an altercation with Raylan on the baseball field when they were both 17.
I love it. The big-time lawman continues to be haunted his small-town past and present. The first season of Justified was a brilliant mix of story, character, wit, heart, and an astounding amount of quick-draw bad-assery, so I can't wait to see what the writers come up with for its second year.
And don't forget that first season antagonist Boyd Crowder (Walton Goggins) is still out there trying to live the straight and narrow after Raylan let him go at the end of the appropriately titled first season finale, "Bulletville."
As for Davies, he starred as Daniel Faraday on 31 episodes of Lost and has appeared in many films including Saving Private Ryan. My favorite performance of his (of the admittedly very few I've seen) was opposite Christian Bale and Steve Zahn in Werner Herzog's absolutely outstanding (and, despite its tough subject matter, beautifully uplifting) Vietnam drama Rescue Dawn.
More news on Justified Season Two as it happens!