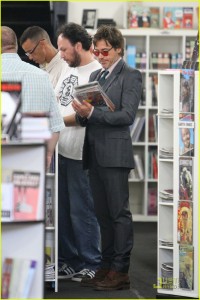 … and I swear that's not the setup for a lame joke.
It really happened.
Check out this article about the Iron Man actor's visit to a comic book shop in Hollywood to grab some Avengers comics as research for the forthcoming film that will team him up with Chris Evans as Captain America, Chris Hemsworth as Thor, and Mark Ruffalo as the Hulk.
This actually occurred way back in June, and I can't believe I didn't write about it then, but it's better late than never, I guess.
Can you imagine being in that shop when Iron Man walked in? I bet everybody in there was flipping out.