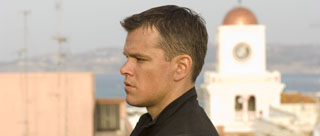 Sorry for the bad pun in the title, but humor — even when it's as lame as that — is the only thing holding me in check right now.
Last week, Deadline New York's Michael Fleming broke the news that Tony Gilroy, who wrote The Bourne Identity, The Bourne Supremacy, and The Bourne Ultimatum, would not only write a fourth film in the series — called The Bourne Legacy — but direct it, as well.
(He previously directed the Julia Roberts/Clive Owen thriller Duplicity and the excellent Michael Clayton starring George Clooney.)
First of all, what else is there to say about the character after Ultimatum's perfect ending? Matt Damon said he'd only consider revisiting the character if director Paul Greengrass (who made the last two) would come back, and Greengrass has already said that he wouldn't do another one, because Damon and Greengrass know what I know, and what you know — we don't need to sully a perfectly crafted trilogy with a sequel that might not deliver.
Anyway, Jeffrey Wells from Hollywood Elsewhere was contacted by Mr. Gilroy, who didn't feel Fleming's article gave him or the project a fair shake. (Why didn't he just contact Fleming?)
What Gilroy told Wells eases my mind in one direction but confuzzles it in another. Let's break this thing down.
Gilroy says his "completely original screenplay" shares nothing with the fourth Bourne novel (which was written by a new guy, Eric Van Lustbader, in light of the passing of original Bourne creator Robert Ludlum) but its title.
Which is fine with me — the movies didn't follow the novels anyway, and Van Lustbader isn't Robert Ludlum.
(And I don't mean that in a snarky sense; I've not read the book. But the fact remains that Van Lustbader literally is not Ludlum, and he probably took the series in directions that Ludlum might not have. In fact, I'd like to think that Ludlum would have agreed with Damon and Greengrass that the story didn't need to be continued at all. Just don't tell Van Lustbader that, as he's cranked out five new Bourne books at last count.)
"This is not a reboot or a recast or a prequel," Gilroy continues. "No one's replacing Matt Damon. There will be a whole new hero, a whole new chapter…this is a stand-alone project."
Zzzzzzzzzzzzzzzzzz.
""The easiest way to think of it is an expansion or a reveal."
Zzzzzzzzzzzzzzzzzzzzzzzzzzzzzzzzzzzzzzzzzzzzzzzz.
"Jason Bourne will not be in this film, but he's very much alive. What happened in the first three films is the trigger for what happens. I'm building a legend and an environment and a wider conspiracy … the world we're making enhances and advances and invites Jason Bourne's return [down the road]."
It enhances! It advances! It puts terrorists and tyrants in trances! And yet, it doesn't make me do any dances.
Finally, Gilroy goes for the gold: "Everything you saw in the first three films actually happened, and everyone who got into them will be rewarded for paying attention. We're going to show you the bigger picture, the bigger canvas. When you see where we're going and see what we're doing it'll be pretty obvious…but Jason Bourne's activities in the first three films is the immediate trigger."
This sounds awfully desperate and even a little insulting. I paid attention to the first three movies and was rewarded considerably by the exciting, intelligent path it took to its spectacular ending; it seems like they're trying awfully hard to milk something better left alone.
That being said, I think Gilroy's tremendously talented, which in a way makes this even more frustrating, because I wish he'd just write/make another great movie with another great idea rather than mining the Bourne depths again.
At least they're not rebooting it, right? And will other actors from the films appear? Joan Allen? Julia Stiles? Or will this be brand new from top to bottom?
Whatever, man. I'm still holding out for The Bourne Zoology …
(Be patient. Matt Damon appears near the middle.)