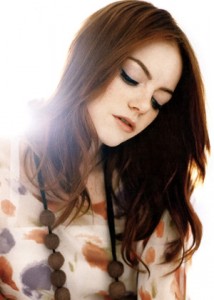 I love Emma Stone. Like, whoa.
Red hair. Amazing voice. Gorgeous and sexy, with impeccable comic timing.
When I saw her in Superbad, my immediate reaction was, "Why couldn't they have cast a girl like this as Mary Jane Watson in the Spider-Man movies?"
And as of yesterday, it appeared that they — "they" being Columbia Pictures — had indeed cast her as Mary Jane opposite Andrew Garfield's Peter Parker in the upcoming Spider-Man reboot.
It became official today … only it didn't. While Emma will indeed appear in the movie … but she'll be playing Gwen Stacy, not Mary Jane.
What?!
"Let's hire the most smokin' hot redhead we can find, who's perfect for Mary Jane, but we'll have her play the platinum blonde girl instead."
Let's not mention the fact that Gwen Stacy's role in the Spider-Man mythos, aside from being Peter Parker's first true love, is to die.
Bryce Dallas Howard — another redhead! — played Gwen in Spider-Man 3; the character was tossed in only to be tossed aside, among the film's many other crimes.
What kind of role will Gwen play in the reboot? How many films will she be in?
I really feel like this is a huge waste of a talent like Miss Stone. For that matter they could cast her as Superman tomorrow and I'd be okay with it, but it just seems like they're missing the obvious here.
It would be like Christina Hendricks and Elisabeth Moss showing up for the Mad Men auditions, and Hendricks gets cast as Peggy and Moss gets cast as Joan.
Sometimes things just don't make sense to me.
---
Update
Director Mark Webb says she's a natural blonde. But still. From his statement:
"The chemistry between Andrew and Emma was stunning and made Emma the clear choice. At the heart of the story of Peter Parker is not only the amazing Spider-Man, but also an ordinary teenager who is wondering what he has to do to get the girl. Andrew and Emma will bring everything audiences expect to these roles, but also make them their own. Much to my surprise, it was fun to find out that our choice for Gwen (Emma) is also a natural blonde."