When Maggie Gyllenhaal talks about her role in the Batman Begins sequel, The Dark Knight, I get to post pictures of Maggie Gyllenhaal.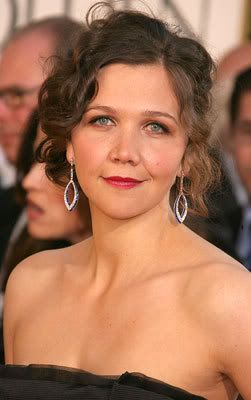 So far it's been a good arrangement for all parties involved.
Maggie talks in this new interview about taking over the part of Bruce Wayne's childhood friend (and current Gotham City legal eagle), Rachel Dawes, from Katie Holmes, who declined to return for reasons unknown.
"I'm not thinking of it as a role that anyone's played before," Maggie says. "I'm not walking into Katie Holmes's performance. I'm thinking of it as an opportunity to play somebody who's alive and smart. Chris [Nolan] asked me to do this because he wanted me, not because he wants some generic lady in a dress."
And here's the really hot part:
"I'm really excited about it. I mean, it's not some silly action movie. Chris Nolan is directing. Christian Bale is starring. I'm really excited and curious about doing a couple of stunts."
Stunts! As much as I love Maggie Gyllenhaal, I'm especially looking forward to meeting Maggie "Danger" Gyllenhaal.
Oh, Maggie Gyllenhaal. I'm really excited and curious, too.
Did I type that out loud?
Moving on.
Next up is some really fun stuff from Aaron Eckhart, who plays Gotham City District Attorney Harvey Dent. Harvey unfortunately gets rewarded for helping Batman (Christian Bale) and Gotham cop numero uno Jim Gordon (Gary Oldman) fight the mobsters and freaks who are taking over the city by having the bad guys burn half his face off with acid. The trauma unlocks a second personality with its own perverted morality, resulting in a villain called Two Face. He goes back and forth between the two personalities by flipping a coin that's scarred on one side. If the clean side comes up, Harvey's in control. But if the scarred sign comes up, Two Face comes out.
Here's an interview where Eckhart mentions how awesome Heath Ledger is going to be as The Joker.
Once you've read that, you've got to check out this hilarious video interview that Eckhart did for MTV Movies Blog. I'm not sure what's funnier — MTV interviewer Josh Horowitz's attempts to sneak in questions he knows Eckhart can't answer, or the hilarious way that Eckhart tries to sneak around the questions while still sort of answering them. Either way, it's massively entertaining.
And finally, Fox News Chicago posted these three videos of some of the Dark Knight filming being done on Chicago's Lower Wacker Drive.
The middle video on the page not only shows the Batmobile driving around but also features The Joker zipping around on a skateboard before standing around chatting with some of the crew members. Is it Heath Ledger or a stuntman? I'm not sure. There's more Joker in the third video, too.
And then Jett over at Batman on Film posted these two videos; the first shows Batman riding the Batpod and the second shows even more Joker.
I still can't believe how scary and awesome The Joker looks. I can't believe how far his smile extends up the sides of face.
I can't believe we're now less than a year away from the release date of July 18, 2008!