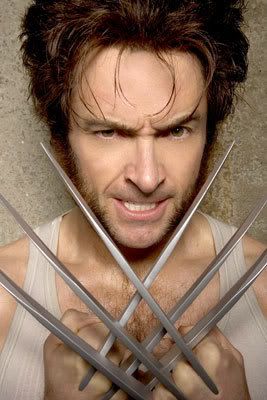 Source: Variety
I remember the first time I saw Hugh Jackman on screen in the first X-Men.
"Yeah," I thought. "That's definitely Wolverine."
Jackman was so awesome in all three X-Men films that Twentieth Century Fox wanted to put him in his own spin-off movie (because it's definitely cheaper than making another X-Men movie), and now the spin-off has a helmer.
South African writer/director Gavin Hood will be the man in charge of Wolverine's plan. His 2005 film Tsotsi won an Oscar for Best Foreign Film and there's already a lot of buzz surrounding his October 12 political thriller, Rendition, starring Reese Witherspoon, Jake Gyllenhaal, Meryl Streep, Alan Arkin and Peter Sarsgaard.
Jackman rocks, and I've no doubt that Hood will bring something different and innovative to the table.
My only complaint here is that it's an origin movie, and I felt like we got just enough of Wolverine's background in X-Men 2 to have an idea of where he came from while still keeping things mysterious.
Let's take Hannibal Lecter as an example. I didn't care for Hannibal Rising (despite Gaspard Ulliel's fine performance as the young Lecter) because it lined out all these deep emotional and psychological reasons for why Hannibal does what he does. To me, Hannibal Lecter is infinitely scarier when he's a charming, cultured, finely educated gentleman who wakes up one morning and decides he might like to eat people. Sometimes evil just happens, and that's what made Hannibal so scary in The Silence of the Lambs.
Not that Wolverine is evil, of course. But you know what I mean. Rather than going back and trying to explicitly explain where Wolverine came from, I'd rather see a new adventure that's something we'd otherwise never get to see in the context of the X-Men movies. There are lots of incredible comics about Wolverine fighting ninjas in Japan, for example, and I'd love to see the character placed in a fresh environment like that.
Oh, well.
Wolverine begins filming this November for a 2008 release, joining The Dark Knight, Iron Man and The Incredible Hulk in what's shaping up to be the best year for comic book movies ever.
Bring it!