Last night Courtney and Bob and Oliver and Sarah and Melissa and Mike and I ate at Cheddars as part of our ongoing Tuesday Night Dinner series.
It was a massive success.
Appetizers of Homemade Onion Rings and Texas Cheese Fries — buried under melted cheese and chunky bacon with RANCH to dip them in — were followed by a fine smattering of meals.
I got the Monte Cristo, which Cheddar's describes thusly:
"Roast turkey and hickory smoked ham with two cheeses on fresh bread, battered and lightly fried, with raspberry preserves."
Interesting.
It wasn't anything at all like what I had in my head.
The best way I can desribe it is that it's what you'd get if you fried a hot, cheesy ham-and-turkey sandwich inside a friggin' donut and then chopped it up into large pieces. (More like an Elephant Ear.) In fact, there was even powdered sugar on the battered/fried outside.
And as crazy as it sounds, it was delicious.
They didn't skimp on the ham and turkey (nor did I expect them to, as Cheddar's is always big on the large portions for cheap prices).
The hot, melty cheese oozed out with every bite, and the raspberry preserves provided as a dipping sauce gave it an additional sugary kick. Very flavorful.
I had everybody try it, because it was so strange and yet so delicious.
And every time someone took a bite, for that moment they became "the Count of Monte Cristo."
Even little Oliver got to be the Count of Monte Cristo (and celebrated his turn at royalty with a preserves-induced sugar rush).
Bob thinks there's a misprint on the menu and that it's actually called the Monte Crisco.
Either way it was an odd — yet scrumptious — new experience courtesy of the good folks at Cheddar's.
And speaking of the Count of Monte Cristo, one of my favorite movies is The Count of Monte Cristo with Jim Caviezel, Guy Pearce and Dagmara Dominczyk (who, with her bright blue eyes and black curls and lips til Tuesday, is one of the most beautiful women ever captured on film).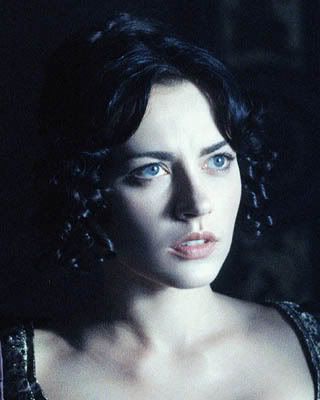 Oh, Dagmara. I would share my Monte Cristo with you … forever.
Anyway, you can read a brief review of the DVD here, and if you love movies you really need to see it.
Where will the next Tuesday Night Dinner be? I can't wait to find out. And last night was particularly good, because we went back to the Nevilles' house to watch America's Got Talent, The Singing Bee (which was fun but also way too picky in its gotta-be-word-for-word self-righteousness) and The World Series of Pop Culture on VH1. Thanks again to all involved for another fine, fine evening.
And tonight, Harry Potter and the Order of the Phoenix at the Great Escape 16! Review forthcoming.
In the meantime, if you want to become the Count of Monte Cristo, go to Cheddar's and order a Monte Cristo, and tell 'em the Count of Monte Cristo sent you.