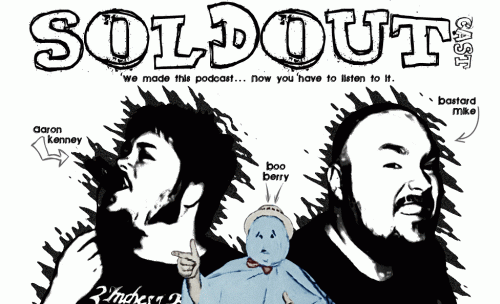 Back in June, I was the guest on SOLDOUTcast, the awesome weekly podcast created by my friends Aaron and Mike.
Check these guys out — they put a lot of humor and heart into what they do, and the sky's the limit when it comes to discussion topics.
On my first guest appearance, we performed a script I wrote that basically turned their podcast into a post-apocalyptic action movie. You can listen to the original installment here.
And now we've done the sequel, which is available here.
And you should listen to it, because it's kind of amazing.
Mike's fiancée Tiffany was able to play herself this time (though Mike's impersonation of her in Part 1 was pretty hilarious), and the guys' guest host for #22, our friend Greg Wilson, steps up to rescue us all from the clutches of evil before everything goes all Empire Strikes Back at the end.
The stakes have never been so high.
The massive amount of time and care that Mike put into editing this thing is flabbergasting, and the vocal performances from everyone are off the charts. Greg makes for a mighty Iron King, and when Aaron is called upon to express the greatest sorrow any man has ever felt about anything, all I can say is that you'll feel it, too.
Here are just some of the things that happen in the sequel:
Flaming pig monsters!
Christina Hendricks in furry space lingerie!
Battles!
Sex!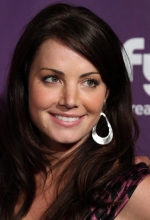 Mythology!
Shortcuts!
Escapes!
It's out of control, and ready for consumption.
Please let Aaron and Mike know what you think.
And yes, I wrote myself into a romantic relationship with Erica Durance of television's Smallville.
So sue me!