Yesterday I was a guest on SOLDOUTcast, the awesome podcast created and hosted by my friends Aaron Kenney and Mike Tomes.
This was their eleventh episode, which I consider a really cool milestone for them — doing 10 of anything is great, but 11 means you're here to stay. And with new guests signing up all the time, you'd better believe they're ready to hang around.
You should become their fan on Twitter and Facebook to get updates on upcoming topics and guests, and guys, I'd love to come back and do it again.
Be sure to check out all the previous episodes, too. Each podcast is about an hour, and Aaron and Mike really put a lot of heart, thought, hilarity, and fun into each one.
Of special interest in my guest-starring role on this week's episode is SOLDOUTcast: The Movie, in which we read an 11-page radio play that I wrote about Aaron and Mike and their efforts to carve out order and bring back hope in a lawless, mutant-ridden apocalypse. (Warning! Adult language and situations!)
We also talk about movies, music, and other topics as I answer the legendary SOLDOUTcast Questionairre.
You can check it out by clicking here or on the SOLDOUTcast logo below: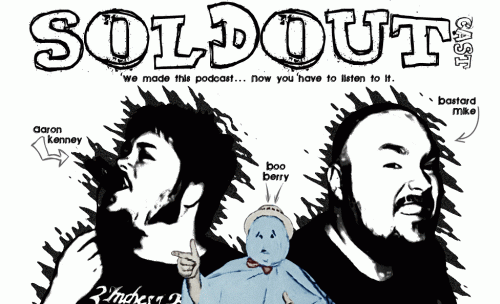 A huge thanks to Aaron and Mike for having me on and providing such a fun time, and of course for acting skills that would make Clooney weep.
Also, extra special thanks to Aaron for suggesting the theme music that's right up my alley, and to Mike for going above and beyond the call of duty with editing and sound effects.
You guys are the best.