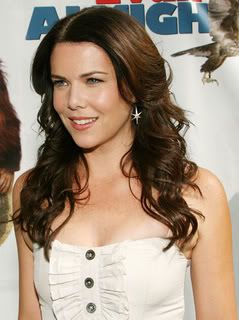 My number one gal Lauren Graham was at the premiere of Evan Almighty — which she stars in with Steve Carell and Morgan Freeman — on Sunday night in Los Angeles.
As usual, she was so gorgeous it hurts.
There are lots more pictures here, including tons of cast members from The Office.
Angela Kinsey — so frumpy and generally unpleasant as Angela on the show — is one of the most vibrant and beautiful women I've ever seen. And Mindy Kaling, who plays Kelly, is such a doll.
Enjoy the photos! Evan Almighty rides out the flood on June 22.