The good folks over at the Batman on Film Message Forum posted some wonderful links to articles and a video from the Batman press conference held today in Chicago.
Click right here to watch ABC 7's video of the press conference and read the accompanying article, which features comments from director Christopher Nolan and the Bat-man, Christian Bale.
Bale talks about having to wear a black rubber suit in the hot summer Chicago humidity. "If you see a long trail of sweat through the city, follow it and you will find me."
And he's not just wearing the suit. He's jumping and running and kicking and punching and gas-powered magnetic grapple-gunning and zip-lining and Batmobiling in it. That's dedication. I changed my car battery this afternoon and felt like I sweat 11 buckets, so I can't imagine what being Batman would be like*. Rock on.
You can also check out a photo of Bale at City Hall with Chicago's mayor, Richard M. Daley: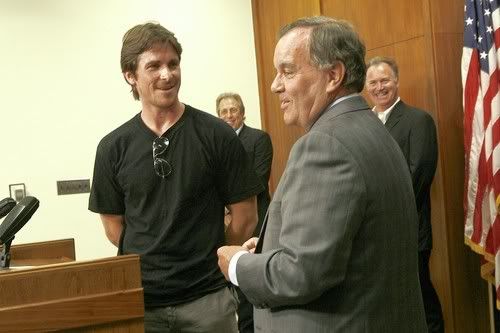 (The original photo appears here, but you've got to go through a ridiculous registration process to see it.)
The Dark Knight whisks us to the days of high adventure on a kevlar utility harness filled with nachos and Cokes on July 18, 2008!
* That's a lie. I try to imagine it about 37 times a day.