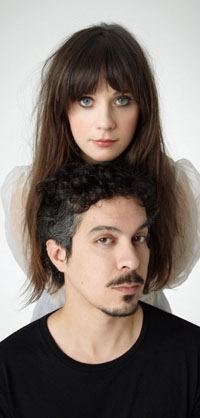 I still listen to She & Him's first album, Volume 1, all the time. With the aptly titled Volume 2, they've moved beyond "Hey, listen to this amazing little side project we made," skipped right past "We're here to stay," and rocketed right on through to "We're a major force to be reckoned with" without missing a bop or a beat.
Believe it.
"She" is lovely and talented actress Zooey Deschanel, who has long been one of my favorite celebrity crushes.  The "Him" here is M. Ward, a singer, songwriter, and wildly gifted guitarist and producer whose solo work has rightfully earned him a loyal and eager following. Together, they're a special kind of magic that combines the best of modern pop sensibilities with the warmth of old-school AM radio intimacy.
Ward's production here is every bit as big, as expressive, and as inviting as Deschanel's giant baby blues, enveloping her clear, earnest voice in one delightful arrangement after another. Ward's fans will be happy to hear more of his harmonies on this volume than on the last, and he even steps all the way up to sing a co-lead vocal on their whiz-bang cover of NRBQ's "Ridin' in My Car."
Deschanel's delivery on these tracks is most often very matter-of-fact, but she's constantly, instinctively doing a million little things to give her vocals variety and an earnest sense of knowing far beyond her years. That's far too rare a talent these days, but she just knows exactly where to go with every moment and word. This isn't an acting gig where rehearsals are involved, either; the things she does here with her voice come from the kind of instinctual connection to music that you either have or you don't. We're lucky that she's got it so good.
Before I talk about some of the other songs, let's take a minute to watch the video for the album's first single, "In the Sun," which immediately became one of my all-time favorite videos. And make sure you crank it up to 720p or 1080p to see it in higher quality:
Gaaaaaaaah. How brilliant and fun was that? (I love how Zooey is obviously having a difficult time not smiling every single second.)
I think this album has a better lyrical variety than Volume 1 did; if I wrote down every line that made me smile, I'd damn nearly have to transcribe the entire album. Piano-driven bopper "Don't Look Back" begins with more of that old-soul vibe that defines so much of the album: "Orpheus melted the heart of Persephone, but I never had yours. I followed you back to the end of the path, but I never found the door," heading to the chorus of, "Don't look back, all you'll ever get is the dust from the steps before. I don't have to see you every day, but I just want to know you're there."
The more mellow "Lingering Still" is another of my lyrical favorites: "I like to learn things slow. I like learning a lot. I like to get it all again and in the end you know you get what you got," and then the chorus is, "And the world's like a science and I'm like a secret, but I saw you lingering still." Some of the album's best backing vocals and guitar work can be found on this one, too.
Lots of great string arrangements can be found across the album, and I hear a lot more electric guitar here than on the first one. That extra jig-a-jig-a-jangle goes a long way to making everything so sonically pleasing.
"Me and You" is another laid-back track highlighted by M. and Zooey lazily trading "ba-da-da-dum" and "ba-da-da" over a refrain of "You've got to be kind to yourself."
Mandolin accents bolster the poppy piano on "Home" as Zooey builds to one of the album's sweeter ideals: "I could be your state and I could be your nation. It doesn't get better than home, now does it? I could be your welcome and I could be your greeter, I could be sweet and I could be sweeter. I want to be where your heart is home. I want to see you with the light in the morning. There's never been such a beautiful warning to me, to me. Why don't we just sit and stare and do nothing? Nothing at all for a while." And like an afterthought, she effectively punctuates it with, "I like the way you smile." Just like that, my heart is hers.
"I'm Gonna Make It Better" is just as charming, and "Over It Over Again" comes in late in the game to become one of the album's most memorable tracks. "Why do I always want to sock it to you hard?" Zooey asks. "Let you know what love is like, when I'm keeping all my cards up on the shelf," right before a tough, delightfully nonchalant girl-group harmony (that's all Zooey) adds "where you can't see them." The "just like" and "and I'm" in "Running away from is just like running a business, and I'm keeping up with the games you play every day" are all Zooey, too, segueing into one of the smartest lyrical moments on the record: "I've gotten over it over and over again. I've gotten sick of it, but a lick of it will suck me back in."
After a wonderfully varied mix of faster and mid-tempo tracks, the album ends on two slower notes. "Brand New Shoes" begins with, "I had some brand new shoes. They were all red, but they gave me the blues." Second verse: "We are all made of air. There's stars in my eyes and there's sun in my hair. And I'm running away, it makes me feel better." Makes me feel pretty good, too.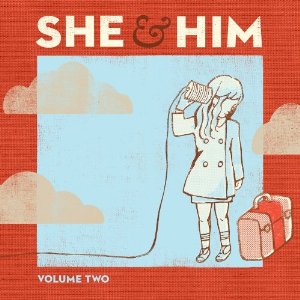 "If You Can't Sleep" glides along like a gospel lullaby, with the huge, sweet swell of a soothing "mmmm" behind beautiful sentiments like these: "If you can't sleep, I'll be there in your dreams. If you can't sleep at all, and in your dreams I'll touch your cheek, and lay my head on your shoulder." After a delivery of "Goodbye, shadows" that could wash away the sadness from anything, Zooey sings, "If you're far away, if you can't see my face, if the world is cold, but the sun shines the same, shut your eyes, there are bluer skies, for you're embraced in my heart."
All throughout the album, M. and Zooey make all of it seem so effortless, even though this one really is a lot more lyrically, vocally, and musically complex in every possible way than its predecessor. And yet it never sounds busy or forced.
I can't stop listening to it — it's a perfect spring/summer album with a heart that will be beating along with mine all year long.