Update
USA Today has posted another photo! Click it for IMAX size!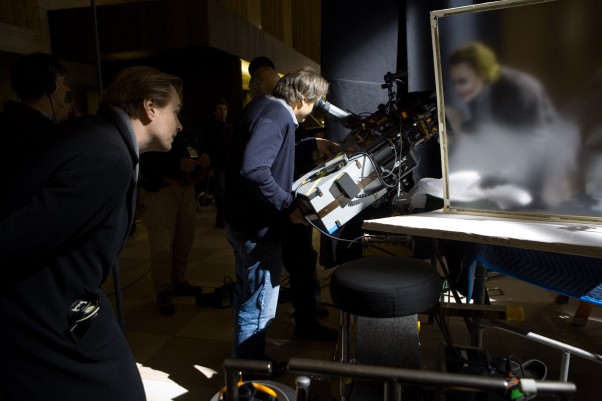 You can see Heath in full Joker garb to the right of the shot! He looks evil and awful and terrifying and amazing. I like how they're teasing us by taking the photograph in a way that he's blurred by the teller window.
I love this movie already.
---
Update
The Hollywood Reporter has also done a story on this, in which Nolan says, "In continuing the story of such a great icon, I'm thrilled to be able to expand the scope of the film, not just in terms of its story, but in giving Batman and the Joker the largest possible canvas on which to face off. No existing technology compares with the Imax format in terms of its ability to throw the audience into the action, and we're very proud and excited to use this technology in a way that no one has before."
Bring it on.
---
Update
YES! News about The Dark Knight just keeps rolling in!
USA Today just published this article about how Christopher Nolan is shooting four big scenes from his new Batman movie in the super-awesome, utterly (and literally) massive IMAX format.
One of the scenes is the introduction of The Joker, played by Heath Ledger.
Says Nolan, "Batman has some of the most extraordinary characters in pop culture. We wanted the Joker to have the grandest entrance possible. I figured if you could take an IMAX camera to Mount Everest or outer space, you could use it in a feature movie."
He goes on to say he wishes he could shoot the whole movie this way.
The article also has a new picture of Heath Ledger as The Joker, but he's wearing a mask. But don't worry or think that they're taking some kind of cheap route for the character. Because under that mask, he looks like this.
Awesome!
I need it to be July 18, 2008, like, tomorrow.