In the Superman comics, Lois and Clark's editor at the Daily Planet is Perry White. Michael McKean — celebrated for his stellar (and hilarious) work in everything from Laverne & Shirley to Christopher Guest's films — played Smallville's version of the character in the appropriately titled third season episode Perry back in October of 2003, and he's set to return in the May 7 episode, Hostage.
But he's not the only familiar face we'll be seeing in that episode. McKean's real-life wife, the outrageously gorgeous Annette O'Toole, reprises her role as Clark's mother, Martha Kent. She's been missing from the show for quite some time after the writers decided that Martha needed to move to our nation's capital to be a senator.
(As much as I still enjoy Smallville, I've never been happy with how the writers treated Clark's parents in the aftermath of the poorly handled killing off of Clark's dad, Jonathan Kent, played with so much warmth by John Schneider. The dynamic between Clark and the Kents was one of my favorite aspects of the show's early seasons.)
McKean has been posting all kinds of Smallville goodies on his Twitter, including a couple of really great photos of him and "the Missus" with Clark actor Tom Welling and Erica Durance, who in addition to playing Lois Lane on the show also owns a mighty chunk of my heart. Seriously. I love this woman.
McKean's Tweets of interest:
1. "Off we go: Martha Kent and Perry White are on their way back to Smallville. Mmmm, smell them cornfields!"
2. "Fun Smallville shoot today. Nice to see Tom, Erica & the crew; the Missus did a lot of hugging."
(That's massively sweet. I'd love to get a hug from Annette O'Toole; I miss her, too.)
Here's the photo of Annette with Tom Welling …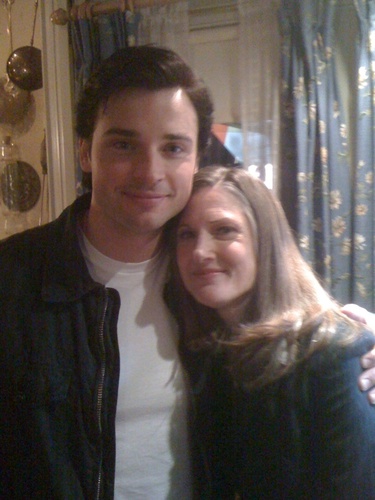 … and here's the one of Erica Durance with a very, very, very lucky Mr. McKean: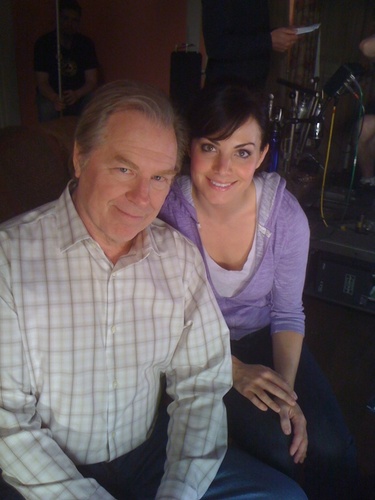 (Click the links to see them at full size.)
Smallville, currently in the home stretch of its ninth season, has been renewed for a tenth.
And have I mentioned how in love I am with Erica Durance?
Trivia: Annette O'Toole played Lana Lang opposite Christopher Reeve in Superman III.