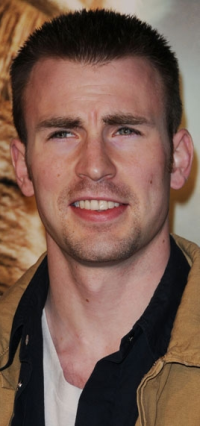 After a long, public, and often troubling casting process, Chris Evans has accepted the role of Captain America.
I think this is really good news.
Evans was excellent in one of my favorite films, Sunshine, an under-seen sci-fi masterpiece you've probably been forced to watch if you've ever been a guest in my home.
As Johnny "The Human Torch" Storm, he was easily the best thing about the mostly terrible Fantastic Four movies — he was charming and hilarious and, more than anything else, he seemed to me to be the only actor in those films who understood what was going on in terms of what the movie was and what he needed to do to make his corner of it work.
So by taking on Captain America, does that mean he'll be doing double duty for Marvel? Not really. Fantastic Four is being rebooted without the original cast, and Evans gave the revamp his blessing back in September. And this isn't the first time Marvel has used an actor for two different roles — a recent example is Ray Stevenson playing Frank Castle in Punisher: War Zone before being cast as Volstagg in Thor (which is filming now). If an artist draws such an amazing Spider-Man that he's also hired to draw Wolverine, why can't the same apply to actors who do such great work in one role that they're asked to come back and play another? It's even an easier sell when the actor in question is as talented as Evans.
Let's look at the history of this thing. On February 3, director Joe Johnston told Sci Fi Wire that he hoped to have an actor cast "within the next couple of weeks." But the list of potential actors leaked on February 24 didn't exactly give fans a lot of confidence. From that initial list, I was pulling for John Krasinki (whom we all know and love as Jim Halpert on The Office), not because he was an obvious choice but because he absolutely wasn't — in the same way people didn't believe Michael "Mr. Mom" Keaton could be Batman, or couldn't see how a handsome Australian like Heath Ledger could be the creepy, calculating Joker. Or how a skinny, theatrically trained stage actor named Christopher Reeve could ever be a believable Superman. But oh, how we believed.
Right around the beginning of the second week of March, things got really confusing. As some sources reported that Krasinski was definitely going to get the role, others reported he was definitely out of the running. No one knew what to think. Neither, apparently, did Marvel.
Meanwhile, I watched the trailer for The Losers and said to myself, "It's a shame Chris Evans already played a superhero for Marvel, because he'd be a perfect Captain America."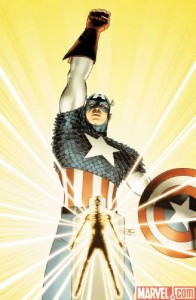 Two days later, it was reported that he'd indeed been approached — along with Channing Tatum, who mumbled his way through G.I. Joe: The Rise of Cobra and most certainly didn't strike me as a leader of men — to test for the role. With Krasinksi confirmed to be truly off the list, all of my hopes fell on Evans.
If I had access to the Marvel/Disney bank account, I'd have written the big check to someone like Matt Damon or Leonardo DiCaprio. But those guys would have been considered too expensive, while a guy like Mark Valley (from TV's Human Target, who served in the army, has degrees in math and engineering from the United States Military Academy, and looks exactly like Captain America) would have been considered too old. Another perfect candidate would have been Chris Pine, who stepped off the bus a fully fledged movie star as Captain Kirk in last summer's successful Star Trek reboot.
At the end of the day, what truly matters is that the actor chosen for Captain America would have to be able to hold his own against Robert Downey Jr., Samuel L. Jackson, and Ed Norton in the eventual Avengers movie (currently scheduled for release on May 4, 2012). Evans will easily be able to do this — he's got the charisma and he's got the chops.
(And he looks like Captain America, which doesn't hurt.)
The movie opens July 22, 2011, and filming begins in June. I don't know how the rest of the cast will turn out, but we're in good hands with Evans behind the star-spangled shield. More to come.
UPDATE: Variety says his initial deal is for three Captain America movies and The Avengers.