And so it begins! We've taken our first step into a larger world.
Go here and click on the Batman logo and you'll be treated to the first image of Aaron Eckhart as Gotham City District Attorney Harvey Dent, who gets acid thrown in his face in a crime so traumatic that it unleashes a second, psychotic personality with its own sick, twisted sense of morality. The result is Two Face, one of Batman's most classic (and tragic) villains.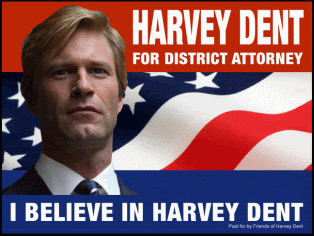 (The direct link to the photo page is here; hang on to it because the front page will likely soon be pointing to other things, like the long-awaited first photo of The Joker.) The phrase "I believe in Harvey Dent" comes from The Long Halloween, an awesome 12-issue comic series by Jeph Loeb and Tim Sale that chronicles the rise and fall of the Gotham City trinity of Batman, police commissioner Jim Gordon and Harvey Dent as they take a stand against the rampant mob corruption in Gotham City. It's an awesome murder mystery with a shocking resolution and guest appearances by almost all of Batman's best villains.
You can buy the collected edition — with an introduction by Christopher Nolan and Davis S. Goyer — at your local comic shop. Goyer co-wrote Batman Begins with Nolan, who directed Begins and is currently directing The Dark Knight from a script he co-wrote with his brother, Jonathan, from a story they crafted with Goyer. It's a really great introduction, and hints that The Long Halloween provided some inspiration for The Dark Knight.
In other Dark Knight news, Variety's Stacy Dodd finally catches up on the Eric Roberts news — and breaks the scoop that Nestor Carbonell (Smokin' Aces) has joined the cast as the mayor of Gotham City — in the most poorly written article ever. The title of the article is simply "Eric Roberts and Nestor Carbonell." What does that tell us, Stacy? We need a verb in there. "Eric Roberts and Nestor Carbonell join Batman sequel." Or, "Eric Roberts and Nestor Carbonell go ice-fishing with Ernest Borgnine." To top it all off, Stacy's article refers to Batman Begins as "Batman Returns."
Oh, Stacy.
And then MTV posted this story that rapper David Banner — who named himself after Bill Bixby's character the classic Incredible Hulk TV series — auditioned for a villain role in the film. (If he gets the part he'll be playing Gamble, one of The Joker's goons.)
There's a lot more Batman news right here.
The Dark Knight protects your popcorn from the sneaky freaks in Arkham Asylum on July 18, 2008!