The Pre-Game Show:
Before we get started with this week's installment of Scrantonicity, I have a special announcement from Dunder-Mifflin Regional Manager Scranton Branch, Mr. Michael Scott: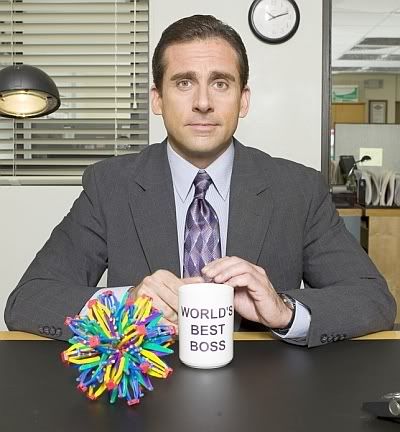 "Okay, look, I know there have been a lot of rumors flying around about Scrantonicity this week. How there's no money, and how there's no food, and how the jokes are really bad, but what the hell, everybody? I mean, God. Scrantonicity is about the best in every one of us. Can't you see that? I mean, okay, we can do better. So, tonight, for the first time, we are inviting all of your friends and family to watch the show with us. Only this year, we're doing separate checks."
Thanks, Mr. Scott.
"That's what she said."
And there you have it. Last week's installment of Scrantonicity was an unmitigated disaster, but we're going to try to do better this week. It started off well, but I never had time to write a review or award Dundies for the episode's best moments. It'll happen! I just don't know when. If I don't get my act together, Michael's going to sit me in the corner with Kelly.
Tonight's SEASON FINALE airs at 8 p.m. — note the earlier time! — on NBC. And here's what our good friends at The Peacock have to say about it:
In a special one-hour finale, the office is still buzzing from the events of their day at the beach. A job opening in Corporate pits coworker against coworker as Michael (Golden Globe winner Steve Carell), Jim (John Krasinski) and Karen (Rashida Jones) all head to New York for final interviews. In Scranton, Dwight's (Rainn Wilson) new regime institutes sweeping reforms, Pam (Jenna Fischer) plays an interesting role, and Jan (Melora Hardin) comes in with exciting news. B.J. Novak, Ed Helms, Leslie David Baker, Kate Flannery, Angela Kinsey, Oscar Nunez, Phyllis Smith, Paul Lieberstein and Creed Bratton also star.
Whew! Last week's episode was awesome, particularly the ending where Pam finally stood up for herself and spoke her mind about how she's treated at the office and how much she misses Jim.
And I don't have to remind you how much of a gut-slammer last season's finale, "Casino Night," was.
Will tonight's finale be as devastating?
Here's what TV Guide's Michael Ausiello has to say:
I tried (and succeeded) to make up for lost time at NBC's upfront Monday, where the entire cast (sans Steve Carell) was in attendance. John Krasinski and Jenna Fischer confirmed my frienemy's report that producers shot two different endings for the season finale, but denied it was because they were waiting to see if Rashida Jones' fall pilot was picked up. Their costar/producer B.J. Novak later backed that up, saying, "We always knew [which ending we were going to use], we just wanted to keep it a secret." He added that the twist ending is indeed a game-changer, and one that revolves around everyone. "Next year's going to be different," he teased, "and you'll see why in the finale."
A game-changer? What does that even mean?
Hang on to your paper weights, kids, because tonight we found out the hard way!
In the meantime, don't forget what I reported on Monday: The Office will be back next season with 30 episodes — that's seven more than this season! — and five of those episodes will be AN HOUR LONG.
WHAMMY!
More will be added to this post as the day goes on!
---
Update
Or not! Nothing was added! I promise I'll do better next season.
---
The Review
YES! What an awesome episode!
But you have to stop reading right now if you haven't seen it yet.
Okay. You're still here. That means you saw it.
So.
JIM!
PAM!
WHAMMY!
Yet again I'm going to have to gush about lots of incoherently happy things and come back later for a more formal review.
But.
Wow.
First things first, the ending, I am now convinced that Ryan is the devil, and I hope a dinosaur falls out of a tree in Central Park and eats his face off. Though I do have much admiration for BJ Novak, who plays Ryan and who's also a producer and writer on the show. Even with all that creative control he still hasn't been afraid this season to turn his character into a total jerk with zero redeeming qualities, and tonight he really dicked it up like a champ. Maybe now Kelly can fall in love with Toby, since their desks are so close. That would be hilarious.
My theory is that Jim was initially offered the job. And Jim said no. Because. Of. PAM!
When he found that note from Pam, attached to a gold medal/yogurt lid from the Office Olympics, that was one of The Great Romantic Notions in History. Awesome!
But what happened to Karen? The one problem I had with the episode was that I felt they were maybe making Karen a little too villainy, just so we'd dislike her enough that we wouldn't mind whatever her fate turned out to be.
And I guess it worked, because I really don't care. Seeing that last scene between Pam and Jim made everything else just melt away.
To quote Kevin, "AWESOME."
I also flipped out when Pam answered, "Absolutely, I do," to Dwight's proposition that she be his Secret Assistant to the Regional Manager. "That's what Jim said to him when he asked Jim if he wanted to be in an alliance with him!" Perfect. Just perfect.
So much to say. As much as I loved that humdinger of a Jim/Pam ending, my favorite part of the whole episode was Stanley telling Dwight that he'd give him a billion Stanley Nickels for never speaking to him again, and when Dwight asked what the ratio of Schrute Bucks to Stanley Nickels was, Stanley told him it was the same as the ratio of unicorns to leprechauns.
Big thanks to my friend Melissa for coming over here late (and bringing CAKE) to watch the episode with me. When Stanley said that, she was giving him the "We're not worthy!" bow from Wayne's World.
Last season's finale left us in such a huge Jim/Pam lurch. This one's certainly less lurchy (to the point of being completely sans lurch), but then again it's also terrifying because you have to wonder what they're going to do to keep things interesting, and therefore frustrating.
Oh, well. I just hope that Jim and Pam are at Chili's right now, and that Pam's ice is melted and she's having Second Drink. You earned it, Pam.
Speaking of Pam, I was so glad to see Bold Pam all night tonight. Totally awesome. I give her 10 points, a gold star and a thumbs up.
And Steve Carell is just so amazing, for reasons I'll save for the real review.
What did you think? It's going to be a good summer after all.