The Pre-Game Show

"Which way to the sunset, kid?"
And so it is, with a heart both heavy and happy, that I begin the Gilmore Sounding Board for "Bon Voyage," the series finale of Gilmore Girls that airs tonight at 8 on The CW. Heavy because I'm going to miss the show dearly, but happy that a good, good thing is coming to what I hope will be a fitting end filled with heart and possibilities.
I'm really excited about this one! The season got off to a slow start, but as I've said many times before, I'm proud of the gourmet omelet new writer/producer David S. Rosenthal has made from the rotten eggs handed to him at the end of last season by departing show-runner Amy Sherman-Palladino. And in all fairness to Amy, she created and maintained a show that I loved for many years. But as last season drew to a close, the stories stopped serving the characters and creative decisions were made in a way that turned TV's brightest, breeziest hour into something frustrating and downright unpleasant.
But rather than slapping together a bunch of quick, shoe-horned fixes, Rosenthal chose instead to take his time and work things out in unpredictable ways with awesome results. Particularly over the course of the last few episodes, Rosenthal has handsomely rewarded those of us who've hung in there with him and trusted his storytelling instincts. He's done an amazing job, and I can't wait to see how he lowers that final, glorious curtain on Stars Hollow, CT.

David S. Rosenthal with Lauren Graham and Alexis Bledel
Per tradition I'll post The CW's description of "Bon Voyage," but I'm going to white it out (below that adorable picture of Alexis Bledel as Rory Gilmore) so that you can only read it if you swipe your mouse over it: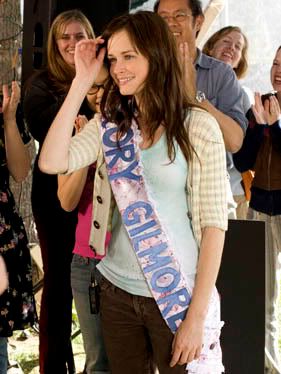 [BEGIN HIDDEN SUMMARY]
Just as Rory (Alexis Bledel) lands her dream job as a political reporter, Luke(Scott Patterson) enlists the help of everyone in Stars Hollow to throw her a graduation party. Emily (Kelly Bishop) and Richard (Edward Herrmann) attend the huge party, where Rory makes a speech thanking Lorelai (Lauren Graham) and the whole town for giving her such a great start in life.
Luke's thoughtfulness brings out an unexpected reaction from Lorelai (Lauren Graham). Finally, on the morning that Rory leaves Stars Hollow to start her career, Luke opens the diner before dawn to share a celebratory breakfast with the Gilmore girls.
CNN journalist Christiane Amanpour makes a cameo appearance as a guest at the Dragonfly Inn.
Melissa McCarthy, Keiko Agena, Yanic Truesdale and Sean Gunn also star. Lee Shallat Chemel directed the episode written by David Rosenthal.
[END HIDDEN SUMMARY]
Please don't read it. I did, and I wish I hadn't. It doesn't reveal anything specific, but it says enough that you can pretty easily figure out where the episode ends, if not necessarily how.
You're also not allowed to watch the extended trailer here, which definitely gives away too much, or the Director's Cut clip here, which I'm not even going to go near (and you shouldn't, either).
TV Guide's Michael Ausiello has been posting all kinds of Gilmore articles over the past few weeks. Most notable are his exit interviews with Lauren Graham (which I told you about last week) and Stars Hollow's very own Luke Danes, Mr. Scott Patterson (which was just added).
The bad news is that you're not allowed to read these truly excellent interviews until after tonight's episode has aired, because there are details in each interview that hint very strongly at how the series ends.
The good news is that by reading the interviews after the series finale has aired tonight, you'll still have something new and fresh to read and look forward to. Trust me on this.
As a teaser, however, I'll let you read some of Scott Patterson's comments about my dream job, aka working with Lauren Graham:
"Lauren has always been pretty much the rock of that whole production. She did the lion's share of the work, and she did it with real aplomb. I wouldn't have wanted that schedule. Not for 10 minutes would I have wanted that schedule. I mean, that schedule would've broken a workhorse, and she just plowed through it every day and it was pretty amazing to watch."
And I like this part:
"I enjoyed doing scenes with her because I knew she was going to hit the ball back over the net as good as she got."
Elsewhere in the article, Scott defends Mr. Rosenthal's decision to keep Christopher and Lorelai together (at Luke's expense) for as long as he did and sings the praises of Vanessa Marano, who plays Luke's daughter, April. He also talks about some of the projects he's already got lined up.
Something you can read right now, if you'd like, is Ausiello's interview with Matt Czuchry, who played Rory's recently (and poorly) jettisoned boyfriend, Logan Huntsberger. Matt gave us an incredible season this year as Logan, and his responses to Ausiello's questions suggest that he's just as thoughtful and as well-spoken as his character.
My favorite of Matt's answers is this one, about how he found out the show was ending:
"I checked my cell-phone messages and one message referenced the official word regarding the end of the show. As I was listening to the message, my niece was calling for me in the other room. She was saying, 'Uncle Matt, do you want to color with me?' These are the moments in life that make it all so beautiful."
Well said, sir. He goes on to speak very highly of the show and his co-workers. And though it seems Matt's tour of duty in Stars Hollow is over after least week's episode, all of us here at the Gilmore Sounding Board would like to thank him for the dedication and craft he brought to the table as Logan Huntsberger.
Elsewhere in the same Q&A that yielded the Matt Czuchry comments, Ausiello shares something Lauren Graham told him about how well she thinks tonight's finale wraps up the show's storylines:
"Had we come back, I think it would've been a little bit like, 'Oops, never mind!'"
That's what I like to hear!
However, Lauren does share something we might have seen — involving Lorelai's mother, Emily, played so superbly by Kelly Bishop — had the show gone on:
"Kelly Bishop said to me, 'If we come back, I think Emily should buy half of the inn, so that we have to work together.' It was such a great idea. Lorelai would have a new level of irritation."
As much fun as that would have been to see, I'd still rather see the show end on a good note now than come back and try to force a few more episodes simply for the sake of making them.
And finally, in his latest video blog, Ausiello plays an audio clip from his weeks-ago chat with Lauren where he asks her about the chances for a Gilmore reunion movie. I transcribed her answer so that you don't have to wade through the whole video for one little clip:
"This is like when you break up with someone and then somebody says, 'Do you think you guys are gonna get married?' It's like, 'I don't know, we just broke up.' You know, I really don't know. There have been people that have done those things in a way that I like. I think the X-Files movie was really cool, you know, but they weren't done. They were sort of still in the thing. I don't know if there is a reason, you know, to go back."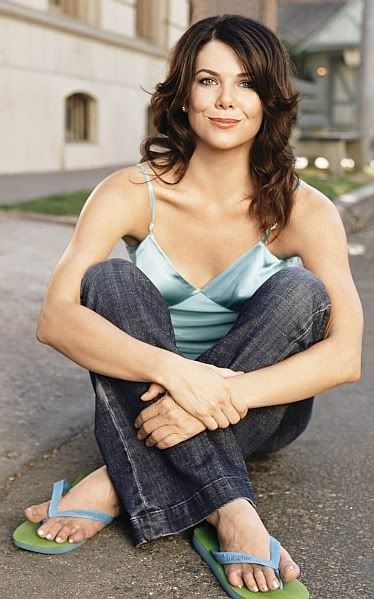 Oh, Lauren Graham! I love The X-Files, too! I got to interview David Duchovny and you can come over tomorrow night and I'll cook you chicken/broccoli linguine from scratch — I make my own alfredo sauce! — and we can listen to my interview because it's still in my machine. And then we can build a leaning tower of blankets and have an all-night X-Files marathon. I want to watch the one with the genie, because it's hilarious. You can pick the rest, but if you pick a bunch of scary ones I just might need to hold your hand.
And so the final Gilmore Sounding Board pre-game show comes to an end!
Enjoy the show tonight, kids. Make the most of it. Watch it with good friends and lots of food, because that's what Lorelai and Rory would do.
---
Previous Gilmore Girls coverage:
Gilmore Sounding Board no. 152
Gilmores no more? Or maybe so? The latest (sort of) news!
Gilmore Sounding Board no. 151
Gilmore Sounding Board no. 150
Gilmore Sounding Board no. 149
Gilmore Sounding Board no. 148
Gilmore Sounding Board nos. 146 and 147
Gilmore Sounding Board no. 145
And please check out my friend Katy's incomparable Gilmore news, musings and reviews right here.
I'll see you back here tonight after the show for discussion and an important announcement about the future of the Gilmore Sounding Board.
---
The Review
Until I watch it again and write a review that's more worthy of its infinite greatness, all I can do now is ramble incoherently about all the things I loved about what I truly feel to be one of the finest, sweetest endings in television HISTORY.
What I loved the most about "Bon Voyage" is that it ended in a way that will allow Stars Hollow's inhabitants to live on as far as our hearts and imaginations can take them.
LUKE AND LORELAI! The kiss was EPIC. I almost wish they'd said absolutely nothing to each other, and just let that kiss say it all.
And when Luke opens the diner for them before Rory goes away on her dream job, and Lorelai's wearing the necklace! Amazing! It told us everything we needed to know.
Here's what I know:
Luke has a hotel reservation for two, and a dinner reservation for two at Barnacle Billy's, both at Lorelai's suggestion.
But Luke's daughter can't go with him on the boat trip, because she got a dream-come-true opportunity to do a summer museum program.
And now Lorelai's daughter can't go with Lorelai on their tour of America's roller coasters, because she got a dream-come-true job as a political reporter on the campaign trail with Barack Obama.
And Cesar has made it very clear to Luke that even though April had to back out of the boat trip, he's still ready and able to run the diner in Luke's absence.
And I know in my heart that Luke and Lorelai are going to go on that boat trip together. They're going to stay in the hotel that Lorelai likes, and they're going to use that reservation for two for the best seafood of their lives at Barnacle Billy's, and they're going to bicker and argue and get on each other's nerves and love each other for the rest of their lives.
David S. Rosenthal didn't show us any of these things because he didn't have time to and he didn't even have to. Because he set everything up so perfectly, in such beautiful ways, that we know where the story is going to go next.
And remember the line I quoted way up there, where Lauren Graham told TV Guide that Kelly Bishop had an idea that Emily should buy up half of the Dragonfly, and how funny that would be as a future plot?
Here's what I know:
In my heart, I know that's going to happen. Because in this episode we had Emily talking about how nice it would be to add a spa at the Dragonfly, and we had that wonderful scene of Emily and Richard offering Lorelai money to help with the inn, and we had Lorelai telling Emily that they can talk about it over Friday Night Dinner.
And again, that's the brilliance of this ending. It didn't hammer us over the head with any forced, finite endings. It left us with a sense of direction for our beloved characters. Rosenthal gave us all the pieces we need and ended the episode exactly the same way the first episode ended, with Rory and Lorelai sharing a moment in Luke's diner.
And you can even tell by the body language between Lorelai and Luke in that last scene — a masterpiece of knowing subtlety by Lauren Graham and Scott Patterson — that things have changed between Lorelai and Luke. (And Rory noticed it, too, with that quick little smile she gave Lorelai.) Rory can go off into the world knowing that her mom's going to be okay, because she'll always have her Luke in shining armor to be there for her.
Luke sewing all those tents together was AWESOME. Best guy ever.
And LAUREN GRAHAM, you take my breath away. For every star there is in the sky, there's an Emmy that Lauren Graham deserves for her seven-year portrayal of Lorelai Gilmore. Tonight she showed us why about every other second.
Other moments I loved:
Zack and Jackson marching out into the rain with umbrellas to escort Rory and Lorelai into Luke's makeshift party tent.
Emily telling Rory how proud she is to be her grandmother.
Richard telling Lorelai what a remarkable woman she is for doing so well with Rory.
The fact that I've got tears in my eyes all over again just writing about some of these things.
The scene between Luke and Sookie! They need to open a catering business called Lookie's. Maybe they can work on that when Lorelai gets back from the Barnacle Billy's Boat Trip that I can guarantee you she'll be going on with Luke.
Kirk and his sashes!
"I'll iron, you fold."
Everything about Luke Danes in this episode.
Everything about Lorelai Gilmore in this episode.
Everything about Richard and Emily in this episode.
Rory meeting Christiane Amanpour in her pajamas.
The totally hilarious physical comedy moment of the whole town carrying the party stuff into the square behind Rory and Lorelai, and then carrying it away when they saw the girls there, without Rory and Lorelai even noticing. That's the kind of thing Amy Sherman-Palladino used to do in her glory days on the show, like the whole town running from ceremony to ceremony for Lane's wedding, or Sookie chasing Jackson in the street over strawberries.
The truly wonderful moments Rosenthal wrote for Sally Struthers as Babette.
What I keep coming back to is the notion that this world is going to go on forever, and that Rosenthal gave us everything we needed to know about where Rory and Lorelai and Luke — and Lorelai and Luke — are going without beating us over the head with something forced and absolute. We've been given everything we need to keep the show going on in our hearts.
Thank you, Amy Sherman-Palladino, for creating this world and these characters.
Thank you, David S. Rosenthal, for picking up a waning torch and carrying it to a gold-medal finish.
Thank you to all the other writers and directors and crew members, and huge thanks to the cast — especially you, Lauren Graham, because you know I love you the most — for making something special that will go on forever thanks to the perfect, beautiful ending we were given tonight.
I'm going to watch it again and write a more formal review. Until then, I have to say that I couldn't have imagined a better ending.
One more thing.
Just because the show is over, the Gilmore Sounding Board will continue! Any time I watch an episode on DVD, I'll write up a short Gilmore Sounding Board for it. And expect to see some occasional Reasons Why I Miss Gilmore Girls, like the ones I sometimes do for Arrested Development. Big thanks to all of you out there who've read it and commented. Please keep the comments coming! All viewpoints are welcome, and all posts will be appreciated.
That really was a beautiful hour of television tonight, wasn't it?
Please let me know what you're thinking.