The Pre-Game Show
With only one episode of Gilmore Girls left, I'll be replacing the Gilmore Sounding Board with a new feature dedicated to NBC's The Office, which is far-and-away my favorite show on television right now.
First things first, I need to figure out what to call it. Here are some early thoughts on the matter:
Office Talk
Dunder-Mifflin Water Cooler
Dunder-Mumblin'
Office Suggestion Box
The Money Beet (suggested by Bob!)
Dunderballin' (also suggested by Bob)
Please feel free to weigh in on which ones you like the most, or make suggestions of your own.
---
Update
I think we have a winner! Bob suggested Scrantonicity, which is the name of Kevin's Police cover band in Scranton, Pennsylvania. I think that's what it's going to be. Thoughts? Feelings? I'll keep voting/suggesting open for the time being as I tiptoe through my trial run here.
---
Anyway, for each episode I'll award Dundies for best dialogue, best character moments, etc.
Tonight's SUPER-SIZED episode of The Office — "Beach Games" — airs from 8:40 to 9:20 on NBC, who describes it thusly: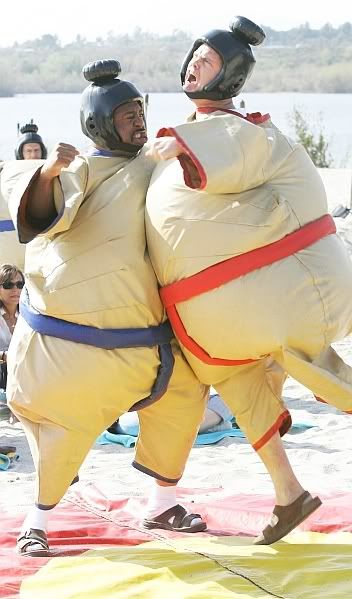 Michael is being considered for a position in corporate and has to recommend his replacement, but while the group expects a fun outing at Lake Scranton, Michael has planned a day of "Survivor"-like competitions to find his successor. Meanwhile, Pam is not asked to join in any of the activities and is forced to watch Jim and Karen have fun together. Directed by Harold Ramis.
Harold Ramis, of course, was one of the Ghostbusters, and has directed many episodes of The Office in the past.
The plot sounds hilarious; I can't wait to see what kinds of competitions Michael designs, or how all of this plays out. And will Pam finally take charge of her feelings for Jim, who still thinks she doesn't want him? What's going to happen between Karen and Jim? With only one episode left this season after tonight's, anything can happen. I mean, think about how much happened in just the last few seconds of last season's finale, "Casino Night." Talk about having to spend your whole summer in turmoil.
Anyway, there's a lot more to come, Office fans! Thanks for joining me for the maiden voyage of this latest feature, and I'll add the review when I can.
---
The Review
You tell 'em, Pam! It felt so good to see Pam finally stand up for herself. And that's all I've got to say at the moment, unfortunately, and I probably won't have time to talk about this one or hand out Dundies until Monday.
I will go ahead and predict that next week, when Michael and Jim and Karen interview for the same position in corporate, Karen will get the job and that'll be the end of Jim and Karen.
(And once again, Rashida Jones will be missed. Though last night my friend Melissa realized that if I married Rashida Jones, my father-in-law would be Quincy Jones, and the wedding song could be a "We Are the World" reunion, though Melissa said she wants to do the Cyndi Lauper part, so, sorry, Cyndi. And if Quincy Jones was my father-in-law, I could go around saying, "Shades of Quincy," like that secretary GOB had in the "¡Amigos!" episode of Arrested Development, who claimed to have had a relationship with Quincy Jones. "From now on, we're going to use just the big printer.")
More soon.