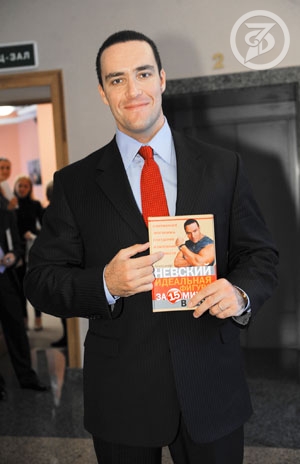 Alexander Nevsky — the actor, author, producer, and bodybuilder with whom my writing partner Kevin Rice and I are scripting what's going to be one hell of a Hercules movie — is beginning his 2010 as busy as always.
Yesterday he began rehearsals for his upcoming stint on the Russian version of Dancing with the Stars, and he's been in Russia for months doing publicity for his own reality show and his best-selling book on women's fitness.
Here's video of Alexander talking about his book on Good Morning Russia, and you can read articles (with photos) about his book tour here, here, and here.
He also recently filmed a role as a Russian journalist in the upcoming film Somewhere by director Sofia Coppola (The Virgin Suicides, Lost in Translation).
Alexander will be back in the United States in a couple of weeks to attend the Golden Globes, and we just have might have some Hercules news to report.
Stay tuned!