Every May, my friends James and Cathy host a giant eaty on Derby Day. This year, the food was better than ever.
James always smokes a brisket and usually one other meat. This year he chose a 13.7-pound brisket and an 8-pound pork loin.
(There were lots of "Boston Butt" jokes.)
His brother Dan and I went over there Friday night to stay up with him as he smoked the brisket and tended to the smoker overnight.
In addition to the delicious rub he conjured up for the brisket, this one also had intermittent slits he'd cut into it, which he then stuffed with 13 whole, strategically placed garlic cloves. (Just close your eyes and imagine all of that goodness cooking into the meat for 18 hours. Whew.)

(11:21 p.m.) The brisket and the pork loin, already prepared and ready to smoke, await their fate in garbage bags on the kitchen table.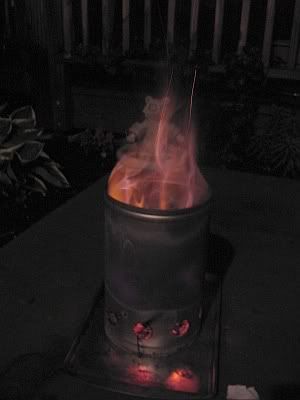 (11:25 p.m.) Meanwhile, outside, the first batch of hot coals is heating up.

(11:26 p.m.) James cleans the smoker by the light of a lantern held by Dan.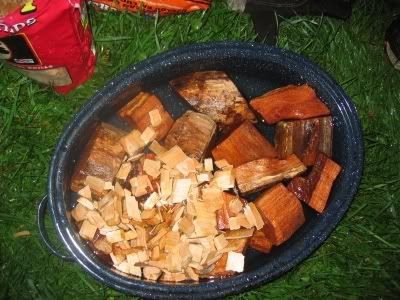 (11:33 p.m.) James soaks the wood chips for maximum smoking performance.

(11:35 p.m.) James consults the meat guide one last time.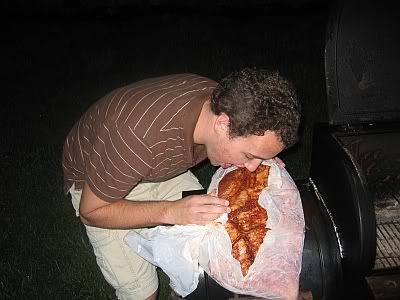 (11:40 p.m.) Back outside, Dan only barely resists the temptation to rip off a huge, raw chunk of brisket with his teeth.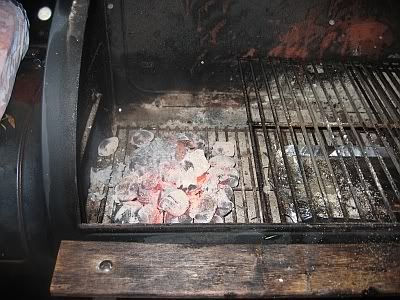 (11:41 p.m.) The coals with flash.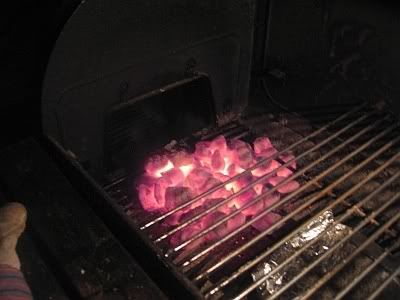 (11:41 p.m.) The coals without.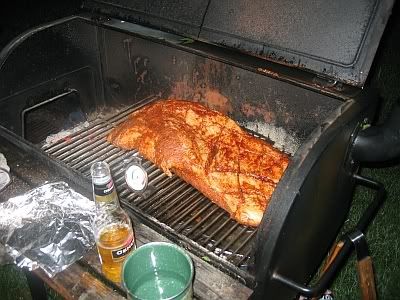 (11:42 p.m.) The brisket goes on …

(11:44 p.m.) … and the smoking begins.
Many times overnight, James had to go out to add more coals and wood chips to the smoker. So, to keep ourselves going, we watched the entire third season of Arrested Development and Tombstone, which gets better every time I see it. (I love it when Billy Bob Thornton is contemplating pulling a gun on Kurt Russell, and Kurt tells him to "skin that smoke-wagon and see what happens.")
Early Saturday morning, we started prepping everything else. James made the slaw — with bacon, onions, diced green peppers and his own homemade dressing — and the potato salad — with onions, chives, green olives, mustard and mayo — entirely by hand. Dan and I chopped a pepper here or diced an onion there, but for the most part James was an unstoppable make-it-from-scratch machine. He made his own cheese ball with crumbled up bacon on the outside — none of those cheap imitation bacon bits, mind you — from the ground up. And he made his famous Beans, which is a crock pot full of all kinds of beans with Italian sausage, chopped green peppers and onions, ketchup and BBQ sauce mixed in. He also put the pork loin on the smoker.
Meanwhile, Dan and I prepared the shrimp inspired by a cooking show James and Bob and I had seen on TV. We took big, raw shrimp, took off the shells and tails, and spread a thick paste of cream cheese, garlic, parsley and oregano into the slit cut along the center of each. Then we wrapped the whole thing in a slice of bacon and slid a toothpick through the middle to hold it together.
As if that wasn't enough, James then mowed the yard.
Melissa arrived first, bearing garlic bread with hummus and a huge Kentucky Derby brownie. Bob and Courtney and Oliver showed up shortly thereafter, with Courtney's famous nacho bean dip and a new concoction, which was scooped nachos filled to the brim with shredded chicken soaked in buffalo sauce with a dollop of sour cream mixed with chunks of bleu cheese on top.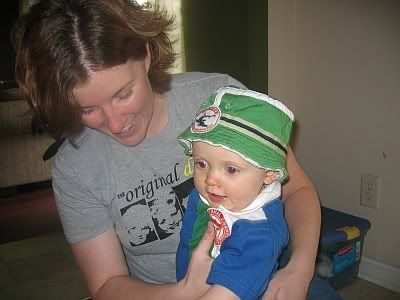 (1:40 p.m.) Melissa holds the spectacularly hatted Oliver.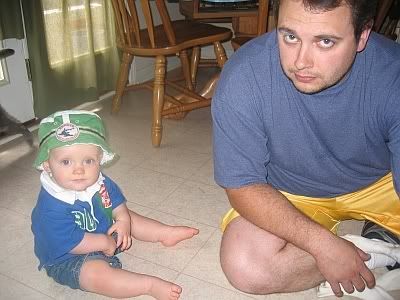 (1:41 p.m.) Oliver and James hang out on the floor.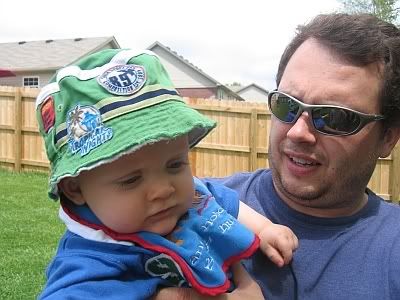 (2:18 p.m.) James gives Oliver his first-ever glimpse of a cooking brisket.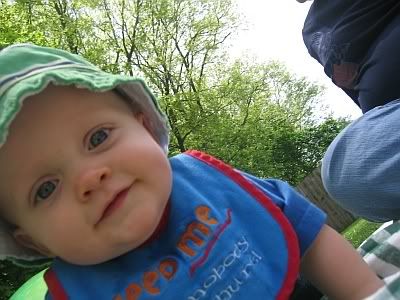 (2:21 p.m.) Oliver continues to rock the hat.

(2:25 p.m.) Ollie navigates the underbelly of the table on the deck.

(2:26 p.m.) Oliver prepares to eat his way out if need be …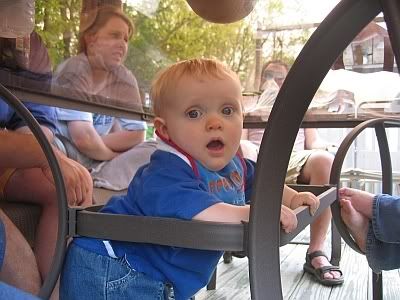 (2:26 p.m.) … or maybe just push it over if the gnawing doesn't work.

(2:28 p.m.) I'm too busy smiling to notice he's chewing on a wood chip.

(2:33 p.m.) Ollie considers a newfound pot of dirt and thinks, "I can eat this."

(3:15 p.m.) The brisket and the pork loin are looking good.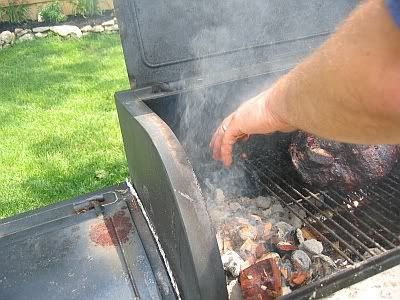 (3:15 p.m.) I thought this shot was cool because it looks kind of like James's arm is made of flame, like that guy from the Fantastic Four.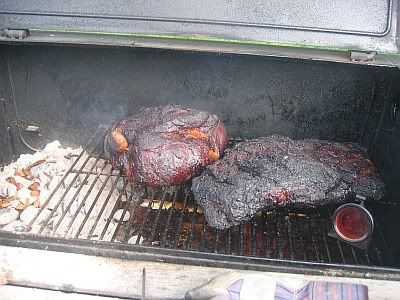 (5:25 p.m.) Almost there …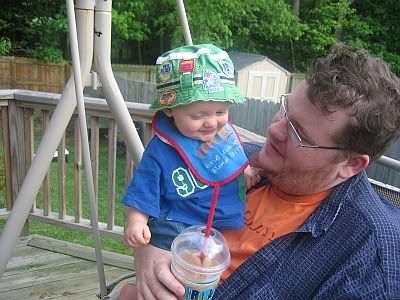 (5:27 p.m.) Ollie loves his daddy, and his daddy's Slurpee.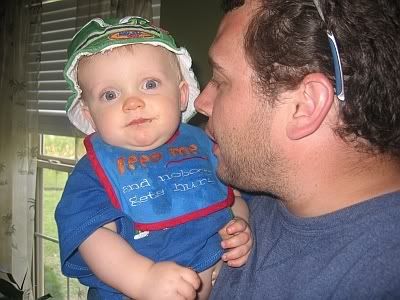 (6:16 p.m.) The chocolate on Ollie's face came from the little chocolate chip and Rolo cookie James just fed him.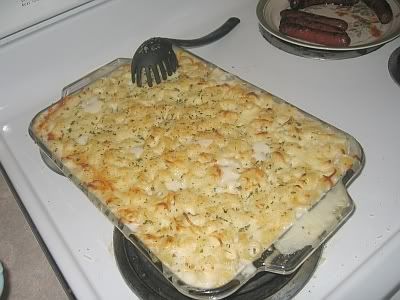 (6:21 p.m.) My baked white cheddar shells — with parsley, oregano, garlic salt and shredded mozzarella on top — come out of the oven.

(6:22 p.m.) My bacon-wrapped cream cheese garlic shrimp, and some other shrimp James marinated in Italian dressing, come off the grill.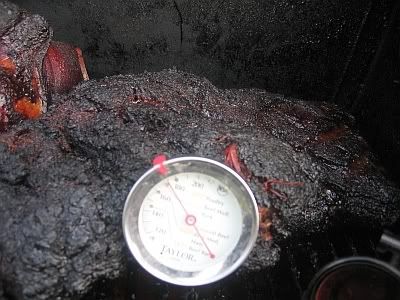 6:24 p.m. — "Ding! Brisket's done," says the thermometer.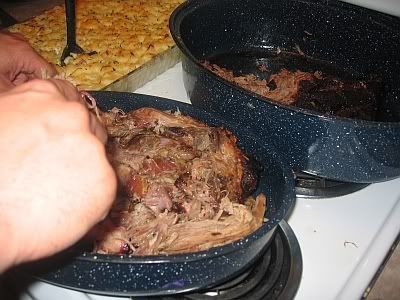 (7:00 p.m.) James prepares the brisket and the pork loin for serving.

(7:00 p.m.) Brisket.
Of all the briskets James has smoked over the years, this one was by far the best. The meat was so tasty and so tender. The bulbs of garlic he'd slid through slits into its innards really did the trick and added a whole new dimension of flavor. And if you happened to get one in the bite you took, it melted in your mouth like butter.
The pork loin was so tender that, when we were taking it off the smoker, it collapsed into pieces when we barely touched it. It was one of the most flavorful and tender meats I've ever tasted in my life.
Massive, massive, massive thanks to James and to Cathy for once again going above and beyond the call of duty to put out a spread of food prepared with much heart, thought, planning and love. We get so overwhelmed by how good the food is when we're eating it that we're lucky to remember our own names, and it's easy to take for granted how much of himself James puts into making this food the best it can be. It's appreciated, buddy. And please know it was worth it.
See you next year!