The Pre-Game Show
What a day! This is my 100th post — thanks to all of you who've stopped by and left comments! — and Lauren Graham is singing karaoke tonight on my television.
And I don't even have to tell you how excited I am about that, WHAMMY!
"Lorelai? Lorelai?" is the title of tonight's show, and hopes are high. Last week's episode ended with the biggest "Luke Danes is BACK, baby!" moment of the season, and Lorelai was more than a little giddy about it. Things weren't so good, however, for the other Lorelai, who got the wind knocked out of her sails by a letter letting her know that her dream-come-true New York Times internship had gone to another dreamer. (For those of you who are new to the show, it's a rarely mentioned fact that Rory's full name is actually Lorelai Leigh Gilmore.) But I have a feeling there's something bigger and better out there for our girl Rory, and with only three episodes left this season (and possibly forever), we're probably about to find out what that is.
Here's what The CW has to say about "Lorelai? Lorelai?":
With graduation looming, Rory (Alexis Bledel) is anxiety-ridden over her future, so Lorelai (Lauren Graham) tries to cheer her up with a day of eating and shopping. Lorelai notices happily that Luke (Scott Patterson) is once again wearing the baseball cap she gave him, and invites him to join her and Rory for karaoke night at a local bar. After a few drinks, Lorelai takes the stage to sing a heartfelt number which is obviously directed at Luke.
Logan returns from a business trip to California and comes to see Lorelai to discuss his future with Rory.
Melissa McCarthy, Keiko Agena, Liza Weil, Sean Gunn, Kelly Bishop and Edward Herrmann also star. Bethany Rooney directed the episode written by David S. Rosenthal.
You know how in the old days, when the Palladinos were running the show, you'd get a little extra excited when you saw "written by Amy Sherman-Palladino" in the credits? I feel that same kind of excitement right now, knowing that Mr. Rosenthal is stepping in to script this one himself. Especially after how well he's been guiding things back in the right direction over the last few episodes, after a long series of necessary detours to nudge things back to where they needed to be. Nicely done, sir.
If you need a Gilmore fix before tonight's episode, the trailer for tonight's episode is here, and the CW Director's Cut clip is right here.
There's still time to take a tour of Stars Hollow with Kirk. (And don't forget to enter the sweepstakes!)
If you're my friend Melissa, who claps and squeals "Forearms!" every time Scott Patterson appears, click here.
Speaking of Mr. Patterson, did you know that he's been cast as the male lead in Saw IV, which opens October 26? Like those movies or not, a gazillion people are going to see it and it'll be great exposure for him. Kind of like what Lauren Graham is doing with her summer vacation.
And if you really want to whet your Gilmore whistle, you need to head on over to an excellent blog called For the Record, where your lovely tour guide, Katy, discusses the show with more heart, thought, perspective and insight than your "wanna live in Stars Hollow" heart can handle. Katy's Gilmore articles, including her beautiful write-up on last week's episode, "It's Just Like Riding a Bike," are collected right here. Stop not knowing what you're missing and get over there.
And for me, here's a photo of Lauren Graham that I'd never seen before: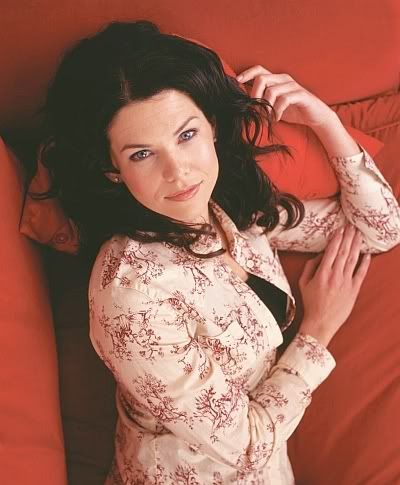 Oh, Lauren. You give my heart fireworks. I'm going to my cousin's wedding next Friday night, if you'd like to be my date. I don't need an answer until 6:59 p.m. that night, so if you show up at the last minute, I'll save you a seat. (And lots of dances at the reception.)
Previous Gilmore Girls coverage:
Gilmore Sounding Board no. 150
Gilmore Sounding Board no. 149
Gilmore Sounding Board no. 148
Gilmore Sounding Board nos. 146 and 147
Gilmore Sounding Board no. 145
Enjoy the show! I'll stop by later tonight to add the review.
---
The Review
Rosenthal, you're on a roll.
It's always a good sign when your head is so filled with a flurry of things you liked about an episode that you don't even know where to start yapping about it.
I loved how they eased us into the surreality of Rory's dream; it was so disorienting seeing her in a Chilton uniform at first, but it all clicked when Headmaster Charleston — and I never thought I'd find myself saying that it was a lot of fun seeing him again — appeared. (As sour as he always was, big credit goes to Dakin Matthews for always being entertaining in his portrayal.) The bit with Lorelai "needing a break, kid" and running off to Hawaii was hilarious (and played quite cutely by the world's most adorable 40-year-old, Lauren Graham). Paris and Doyle running the Gilmore roost was also a hoot, but then the dream ended on a gut-slammer of a shot of the garbage picker impaling a crumpled-up copy of the New York Times. Nicely done, and a nice introduction to how lost Rory's feeling. (And who wouldn't, after watching Paris get accepted into every school on the planet? Paris becoming the queen of the post-Yale universe was nicely reflected by her role as the ruler of Rory's childhood household in the dream.)
We got to see Richard and Emily only briefly, but they were wonderful as always. I loved Emily's indignation over Rory's lost internship — how could anyone possibly be more qualified than her Rory? — and Richard was a rascally old charmer as usual. This was also a huge episode for the good people of Stars Hollow. I loved Babette and Miss Patty talking in low voices to conserve their voices for karaoke night, even though they're usually whispering about everybody else in the diner anyway. (And their "Weird Al"-"Weird who?" exchange really cracked me up.) Kirk singing karaoke later in the episode was just as priceless as expected, and we even got to see Lulu again (though she was too busy bopping to karaoke to say anything).
And just as Sookie and Jackson got a really good storyline/conversation last week, this was the night for Lane and Zack to take center stage. Keiko Agena and Todd Lowe shined as usual, reflecting the wants of a young rock-and-roll couple juggling the reality of a pair of new babies with an honest-to-goodness chance at making their dreams come true. I thought the resolution of that storyline was nicely written and ably played, with Zack being as intuitively supportive to Lane as Jackson was to Sookie last week. It's not like Zack was pretending that he wanted to stay home with Lane and the kids instead of going on tour, even for two months. He was totally serious, and he said so. Lane really had to work hard to talk him into it, and in doing so she was being just as proud and supportive of his opportunity as he was being of her decision to sit this one out in the best interests of the twins. He's going to have some amazing stories to tell those kids someday.
I've been raving all season about how much I've loved the way Luke has been rubbing off on Zack, and it's happened because Zack truly wants to be the kind of father figure Luke has been to him and to Lane. I almost choked up when they asked Luke a few weeks ago to be the kids' godfather, and tonight Zack proved himself the husband and the father that I think he's always been afraid he'd never be able to be. Luke would be proud. Even Mrs. Kim would be proud. I certainly am.
With all of these other Stars Hollow relationships working themselves into healthiest-ever territory, all eyes are on Luke and Lorelai.
First, we'll deal with Luke. As lazy and as hackneyed as the "Luke's got a long-lost kid" storyline was when Team Palladino shoe-horned it into the series last season, David Rosenthal has really worked hard to make it real and true this year. And it's hard to find anything as real or as true as the pride Luke felt for April's acceptance into the summer museum program. Even though you know it was breaking his heart in half, he was so truly happy for her. And I honestly think that April was just as bittersweetly sad about it as her dad was, because I think April honestly wanted to go on the trip as much as he did. It's just like it was a few weeks ago, when she was truly sincere about how simply hanging out with Luke at the diner is enough for her.
I watched this one with Sarah and Bob and Courtney, and as soon as Luke picked up the phone and April started talking, Supreme Court said, "She's not going to be able to go, and now Luke's going to have the hotel booked and that Barnacle Billy's reservation for two, and he can take Lorelai."
I think she might be right.
Because once again, we got to see how much these two still love each other, and it played out like a scene from an old movie (with a decidedly Stars Hollow twist). Luke walking into the karaoke bar just as Lorelai is tipsily navigating the second verse of "I Will Always Love You" … how could you need anything better than that?
(In fact, not even Lauren Graham is good enough an actor to completely convince me that Lorelai's only an average singer; Lauren was purposefully trying to make it imperfect, but you could definitely tell she's really got a lovely singing voice under the acting.)
(And I'm glad Rory pointed out that Dolly Parton originated the song. I'll always have a big place in my heart for Dolly, because she took an ailing cousin of mine to lunch one time via the Make-A-Wish Foundation. She's a sweet lady and a class act, not to mention the fact that "Jolene" was ahead of its time and holds up as one of the greatest songs ever made.)
Watching Lorelai wince at the lyrics of that killer second verse was tough, and Lauren played it perfectly. But when she got to that chorus, she was belting it right at Luke and I loved his reaction, how he first put his head down as if he was a little overcome, and then lifted his head up high to look right back at her.
(I loved how Lorelai gave that hilarious, tipsy curtsy when she took the stage, as opposed to her sweetly quick and awkward exit. Priceless.)
And then the bit near the end with Luke and Zack, where Luke puts the old black cap into his back pocket and sticks with the hat Lorelai gave him? Awesome.
They are there, kids. What we've been waiting for all season long is happening, even if Lorelai and Luke haven't entirely admitted it to themselves yet. All that's left now is some final navigating of a few awkward waters and Stars Hollow might end up happier and healthier than it's ever been. I spent a lot of time questioning some of Mr. Rosenthal's decisions when he took over the show this year, but now I can see that he truly knew where he was going all along. There might have been a few minor missteps in execution along the way, but I couldn't be happier with how things are shaping up for the finale. And yes, Courtney, I think there might be a boat trip in Miss Gilmore's not-too-distant future.
And that ending! I'm going to repeat my weekly-stated position that this Matt Czuchry kid has a bright future ahead of him. He's so relaxed and so natural, and he effortlessly brings so much to every scene he's in. Between the humility he showed in the kitchen scene with Lorelai two weeks ago and the true love he showed for Rory when he asked Lorelai for her daughter's hand tonight, I totally want Logan to be Lorelai Gilmore's son-in-law. I kind of have a feeling it won't happen, but we'll find out next week.
(And Christopher's back next week, too, but given how beautifully written and acted the last scene we saw between Chris and Lore was, I'm not worried this time. She loves Luke and she knows it and it's all going to be okay.)
There are only two things in tonight's show that I'd have done differently. First of all — and this is the minor one — the Lorelai Gilmore I know would never refuse a homemade Sookie St. James meatball, even if it was 9 in the morning. (Once again, the observation was first made by Courtney.) And secondly, I'd have done more with the conversation Luke and Zack had at the end about karaoke night. When Zack started talking about Lorelai's performance, I was really hoping he'd talk to Luke about the Lorelai situation, and in doing so impart some kind of fatherly — with a typical Zack spin on it, of course — insight to Luke. It would have been a sweet, funny way to turn the tables and make Zack the father figure to Luke, and it would have had precedent within the episode given how much we've seen Zack grow as a family man thanks to Luke's example.
Otherwise, it was another stellar night in Stars Hollow.
Okay. It's your turn!