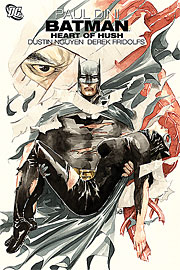 What a week for being a Batman fan! I've got four new reviews on Batman on Film, and I got to interview Paul Dini on Saturday for next month's print edition of Impact.
Paul Dini, of course, is the architect and ambassador of all things Batman across every conceivable medium. Most recently he wrote the brand new Batman: Arkham Asylum video game, which just ended up in the Guinness Book of World Records for best-reviewed superhero game ever.
Paul was extremely nice and very warm, funny, and thoughtful. As a writer he's one of my heroes, because as good as his stories are, he always puts his characters first. He loves his job, and he loves Batman, and he thanked me for all the good reviews I've written of his comics work, most notably the recent "Heart of Hush" storyline, which is my all-time favorite Batman comic book story.
Buy yours right here in a handsome hardcover collection, or better yet, swing by your local comic shop.
(That's Empire Comics on Slate Run Road for those of you in the New Albany/Louisville area; tell George that John Bierly sent you.)
Also on Saturday, I got to join in on my first Batman on Film Podcast, which was a huge honor and tons of fun. Go here and click on #30; it was split into two parts, and #31 should be up soon. I'd like to thank Brad, Sean, and Chris for being so welcoming. These guys know their stuff, and they know how to articulate themselves in ways both thoughtful and engaging.
(UPDATE: Part 2 of the podcast is now posted; look for #31.)
And finally, here's the latest batch of reviews:
Batman on Film is owned, operated, and edited by Bill "Jett" Ramey, the hardest working Batman on the planet. Thanks as always to Bill for the opportunity to be a part of something I've enjoyed so much over the years.
More to come!