Okay, Team.
As you know, Spider-Man 3 opens this Friday, May 4.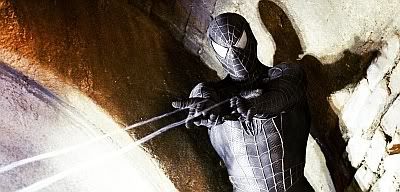 And.
The Great Escape 16 right here in New Albany is having an early-bird 12:01 a.m. showing on Thursday night/Friday morning.
I just grabbed tickets for James and Dan and me. If anybody out there would like to join us, you can pick up your tickets at the theater now or you can buy them online right here.
Ideally, we'll watch The Office at 8:30 and head to the theater shortly after 9 to hang around in line with the gang from Empire Comics.
(A gazillion people will be there, and I don't want to get stuck sitting in the front row for 140 minutes of neck-craning at all the wall-to-wall web-slinging.)
I'll feed us while we're watching TV before it's time to leave.
So. If you want to go, get your tickets and let me know.
Hope to see you there. Let's do this!