A long time ago in a galaxy that looked a lot like Anaheim, my good friend John Mosby took a chance and gave me the gig that turned into a writing career.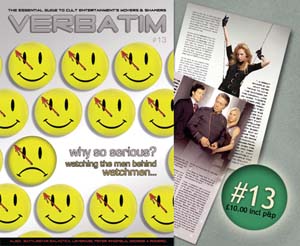 Eleven years later I'm still cranking out articles for Impact, the Global Action Entertainment Magazine, which John edits and contributes a massive amount of writing to. But since John writes so much more than any one magazine can contain, he's also self-publishing his own amazing Verbatim.
You can find out more about it — and order the latest (and previous) issues — right here. Each installment is filled with John's gorgeous exclusive photos and equally exclusive interview material you'll not find anywhere else. Verbatim is a real treat for anyone who loves science fiction, horror, and action films — and it makes a great gift for the movie lovers in your life.
Check it out.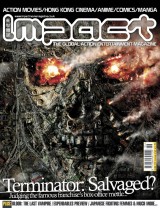 I wrote so many articles for the June issue of Impact that I barely remember what all of them were, but you can find my review of Wolverine and a Terminator Salvation preview article summarizing previous Terminator incarnations on film and in the pages of novels and comics.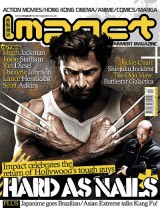 And if you're a Vin Diesel fan, check out my Fast & Furious review and my Vin Diesel career retrospective in the May issue. Just click the links to order or subscribe.
Impact means a lot to me, not just because it allows me to see several articles published each month but mostly because John allows us to dig deep into what makes movies tick.
(And Neal's layouts consistently make this the best looking magazine I've ever seen.)
I've been able to interview the likes of Adrian Paul, Dina Meyer, Kelly Hu, Alexander Nevsky, and David Duchovny in these pages, and next month I'll have a five-page chat with Sandy Collora, whose new film, Hunter Prey, looks like something literally out of this world.
Thanks as always for your interest and support!