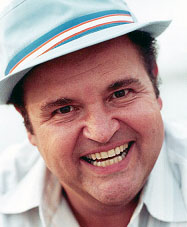 One of the best thing about growing up in the home I grew up in was getting to watch whatever my parents watched. From a young age, I got to see all the best moments from all the greats — Johnny Carson, Steve Martin, Burt Reynolds, etc.
One of my favorite personalities from that late '70s/early '80s heyday was Dom DeLuise, who never failed to make me laugh and smile. He was often doing something related to food, which is a topic near and dear to my own heart.
DeLuise passed away at the age of 75 yesterday, and he will be missed.
(Here's an example of one of his classic bits with Dean Martin, in which Dom played a terrible magician called Dominick the Great.)
Thank you for the laughs, good sir! And don't let God hog all the meatballs.