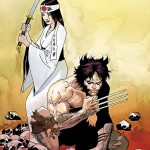 Some of the coolest Wolverine stories I've ever read involve the marvelous mutant's adventures against samurai and ninjas in Japan, set against his tragic romance with a beauty called Mariko.
(If you're interested in reading some of these, please order Wolverine by Claremont & Miller and Wolverine: Logan from George at your local comic shop, and tell him John Bierly sent you.)
I love the idea of taking a Western superhero and dropping him into a strange environment. (It's a large part of why "The Samurai" is one of my favorite Highlander episodes; I loved seeing Adrian Paul's Duncan MacLeod navigating the dangers and customs of feudal Japan.) And even though I can't wait to see Wolverine tonight with my friends Melissa and Mike, I almost wish they'd have done the Japan stories for the movie instead of an origin for a character whose history is better with a little mystery.
But Hugh Jackman is a fan of the Japanese stories himself, and he told MTV's Splash Page that he's talking to writers about exploring those stories in the sequel:
"There are so many areas of that Japanese story. I love the idea of this kind of anarchic character, the outsider, being in this world — I can see it aesthetically, too — full of honor and tradition and customs and someone who's really anti-all of that, and trying to negotiate his way. The idea of the samurai, too — and the tradition there. It's really great. In the comic book he gets his ass kicked by a couple of samurai — not even mutants. He's shocked by that at first."
And:
"There's also a great, very intricate story there with Mariko, and so many cool ways we could go."
I agree.
Let's do it.
(And Hugh, I'm a movie writer now, so … call me.)