I just read on Batman on Film that the folks over at Total Film talked to Christian Bale about his current projects and what's up with the next Batman movie.
Given how successful and amazing The Dark Knight was, I couldn't have asked for a better answer:
"Will we do a third movie? It's got to be the right story. You can't make something like The Dark Knight and then come out with something disappointing."
And then he says something even better:
"I would like it if people say, 'You'll never make a good third movie.' I say, 'OK, let's make a third movie in that case, let's prove them wrong.' But that's just me."
Sign me up. I admire the fact that he wants the story to be right, and that he accepts the challenge of making sure the third one honors what they accomplished in the first two — finding the heart of Bruce Wayne without compromising the power of Batman.
I know what I'd like the third one to be. I know how I'd like it to end. And I'm sure that Bale and Christopher Nolan and the rest of their team will once again deliver something better than I could possibly imagine.
Bale also talks about The Dark Knight and the Oscars:
"Heath winning Best Supporting Actor was fantastic. I had dinner with his family a couple of nights before the awards and liked very much they were the people who were picking it up for him. Of course I was really delighted that it did go that way."
And:
"I'm not surprised by The Dark Knight not getting more Oscars though. I'm not really surprised by anything to do with awards. Hey listen, awards or not it's a wonderful movie. Chris Nolan did such a fantastic job of it and you look back at the history of the Oscars — some of the best movies never got shit."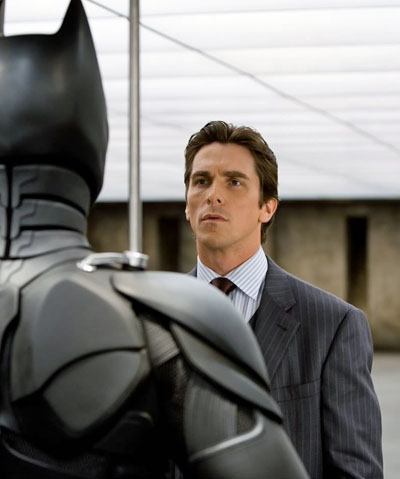 With Christopher Nolan making a science-fiction thriller called Inception next, it will be a while before production begins on a the new Batman movie.
In the meantime, look for Christian Bale this summer in Terminator Salvation and Public Enemies. (For trailers and information about Bale's other upcoming projects, click here.)