That's right. It's time for another episode of …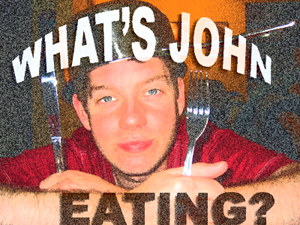 Today I tried the garlic parmesan chicken wings from Rally's.
I ordered the five-piece with a Coke and fries.
And a Rallyburger (no pickles, no mustard, extra ketchup and mayo) as a safety net in case the wings weren't any good.
But they were good.
They were very, very good.
The skin was just crispy enough but not the least bit burned, which sometimes happens with wings. Both flavors came through in perfect amounts, complementing but never overpowering each other. The wings were tender and meaty.
I was charged for ranch dipping sauce that wasn't in the bag.
But that's okay. Because the wings were amazing.
And so was the burger.
And the fries.
And the Coke.
What are you eating? Because I'd really like to know.