The Pre-Game Show
Don't forget, kids, that Gilmore Girls is back tonight on The CW at 8 with its 149th episode, "Hay Bale Maze."
The review/discussion will be found right at the bottom of the page, at this very link, after the episode has aired.
Here's what The CW has to say:
As Stars Hollow prepares for its annual Spring Fling festival, Rory (Alexis Bledel) brings Logan (Matt Czuchry) home and shows him around town. Lorelai (Lauren Graham) sees how serious their relationship has become and worries that Logan is too irresponsible for Rory. Taylor (Michael Winters) angers the town by spending the entire Spring Fling budget on a huge hay bale maze. At an unexpected encounter in the maze, Lorelai and Luke (Scott Patterson) apologize to one another and admit they both made mistakes that lead to the end of their engagement.

Meanwhile, Rory has a job interview with the Providence Journal-Bulletin and struggles with decisions about her future.

Melissa McCarthy, Yanic Truesdale, Liza Weil and Sean Gunn also star. Stephen Clancy directed the episode written by Rebecca Rand Kirshner.
You can also watch a preview of tonight's episode, or take a tour of Stars Hollow with Kirk.
---
Update
TV Guide talks about the possibility of another — albeit shortened — season.
The CW also released this photo of Lauren Graham as Lorelai Gilmore in the episode's titular hay bale maze: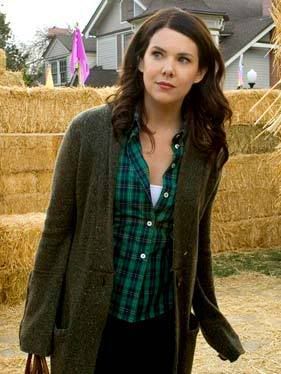 Every night when I got to bed, I pray that tomorrow I'll meet Lauren Graham in a hay bale maze, and that we'll fall in love and live in a warm little cabin in Colorado.
---
Previous Gilmore Girls coverage:
Gilmore Sounding Board no. 148
Gilmore Sounding Board nos. 146 and 147
Gilmore Sounding Board no. 145
---
True Story
Last summer, a girl I'd gone out with a couple of times told me she couldn't date a man who owned Gilmore Girls on DVD, even though her own favorite show was Gilmore Girls.
Charming.
---
The Review
The talk in the kitchen between Lorelai and Logan couldn't possibly have been written or delivered better, particularly by Matt Czuchry, who continues to impress and amaze. It was a masterpiece of soft-spoken confidence, sincerity and humility. Nicely done, sir.
It was so good, in fact, that it made the Lorelai and Luke scene in the (utterly spectacular) hay bale maze seem a little stilted and awkward by comparison. Her kitchen talk with Logan was so honest and open and mature, and yet she and Luke still act almost like strangers when they're around each other. It was good, but I wanted more. I especially wanted more out of Luke, and I'll still never buy that he'd ever do anything to push away the woman he's pined for since the second he met her. I'm glad he told her that he should have asked her for help with April. I'm glad to hear that he knows he needed her help. And I'm glad Lorelai told him that she wanted to help, because you know she would have if she'd just been given the chance. Luke's back to being Luke in every other way, but his treatment of the Lorelai situation still doesn't quite ring true to me.
Oh, well. However awkward it might have been, at least they're getting closer to being on the same page again. We'll see what happens next.
Other highlights: Kirk in the minotaur outfit (under the sheet for the duration of Taylor's speech), Lauren Graham in flannel, Lane and Zack naming the twins Kwon and Steve, and lots of other things I'll remember and add when I'm a lot less tired.
What did you think?