If you're not doing anything Sundays at 9 in the p.m., check out The Dresden Files on the Sci Fi Channel. Paul Blackthorne — whose real name is a much better fictional TV magician name than his fictional TV magician name — plays Harry Dresden, a wizard-for-hire who investigates all kinds of creepy happenings in Chicago. At its best, the show is a cross between Columbo and the funnier episodes of The X-Files, with some legitimate scares thrown in for good measure.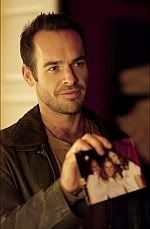 Helping Harry solve his cases are Bob (Terrence Mann) and Murphy (Valerie Cruz). Bob is a ghost who offers Harry lots of centuries-old-school advice; Murphy is a police lieutenant who values Harry's input even when it never makes any sense. Mann is lots of fun as Bob, serving up a nice balance of understated nobility, an occasional hint of superiority and just the right amount of subtle sadness (from being confined to his own skull for the rest of eternity). Cruz, with her dark, flowing locks, is leading-lady gorgeous but doesn't vamp it up. Her Murphy is a confident, no-nonsense career woman who takes her job as seriously as she takes herself. She plays really well against Blackthorne.
And speaking of Mr. Blackthorne, where the hell has this guy been? It looks like his most recognizable credits are a five-episode stint on ER and a 10-show run as a bad guy on 24. (Did Kiefer Sutherland kill him? Does anybody know? Was it brutal? I bet it was brutal.) Anyway, the guy is great. He's got a very natural charm and he's massively likable. Harry's got all kinds of snazzy abilities but Blackthorne's at his best when he uses his wits to get himself out of a jam, which is usually how he does it. (Though last night he tossed some fire at an evil spirit made of wax.)
The show's got lots of heart, lots of laughs and nicely written Mulder-esque narrations delivered quite capably by Blackthorne. Sometimes it's kind of bad, but it's always lots of fun.
Check it out.