It's always a good day when you answer your telephone and find Dina Meyer on the line. She was very sweet and funny and awesome.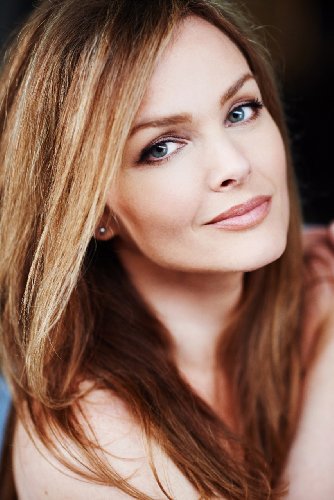 In October, Dina debuts as Barbara Gordon in The WB's highly anticipated Batman spin-off, Birds of Prey. In December she'll grace the big screen as a Romulan commander in Star Trek: Nemesis.
"I've always wanted to be in the entertainment industry," Dina explains. "Initially I wanted to sing and dance on Broadway. I'd rather sing and dance than blow people up. Underneath all this macho exterior, I'm quite the soft girl!"
The New York native studied international business and French but never quite beat the acting bug. "I modeled when I was 9 and did that until I was about 16. When I went to college I decided that I really didn't want to be in front of a camera anymore, so I studied marketing to get on the other side of the camera. And then when I graduated college, I realized that I kind of wanted to be in front of the camera again."
Dina couldn't attend New York's Neighborhood Playhouse but was able to take lessons from a coach there. "They don't allow you to audition. They don't allow you to work. It's a two-year program, and I didn't have time to do that. I was already doing commercials and I couldn't stop because the commercials were paying the bills for my acting lessons!"
Those lessons have had a lasting effect on her life and career. "I learned to be private in public," she says. "I learned to put the focus on your co-star. Making the person you're acting with more important, in return, makes you a better actor."
Her breakout role came as professor Lucinda Nicholson on Beverly Hills 90210. "I auditioned for an Aaron Spelling pilot in New York, and he happened to see the tape," Dina explains. "When they flew me out to Los Angeles to test for the role, Aaron said there was a chance the show wasn't going to fly, and he wanted to know if I would consider being on one of his already-existing shows. I met with the producers of 90210 and there happened to be a new character coming on, and that was it. They relocated me out to Los Angeles in September of 1993, and I've been working ever since."
It took Dina a while to adjust. "I honestly felt when I moved to Los Angeles that I'd hit a brick wall. I'm so active and driven that I've always had 7,000 tasks in a day, and I needed to get them all done. When I came out to Los Angeles, all of a sudden I had nothing to do. My life became about going to the gym and setting up meetings that revolved around food. I didn't go on as many auditions because I wasn't going out for commercials once I moved to Los Angeles. In New York, you can go on five commercial auditions a day. I would skate to the gym, shower there and go off to my first audition. I'd get home at 6 or 7 o'clock at night and feel like I'd had a full day. Then I could go to dinner or meet friends."
Working on 90210 made up for the culture shock. "I had just gotten out of college and I couldn't help but think at 7 in the morning when I was rehearsing with Jason Priestly that if those high school girls who couldn't stand me could see me now … they'd hate me even more!" she laughs.
Dina starred with Keanu Reeves in her movie debut. "Johnny Mnemonic happened a week after I got off 90210," she says. "I thought it would be loads of fun to play this kick-ass girl role."
Next up was Dragonheart. "I hadn't even wrapped Johnny Mnemonic," she says. "I flew home while we were still filming in Toronto and met Rob Cohen and Dennis Quaid in L.A. I flew back to Canada to finish Johnny Mnemonic, and before I even finished the movie I knew I was cast in Dragonheart."
She didn't meet Sean Connery, who voiced the film's CGI dragon, until the premiere. "He was playing golf in the Bahamas and doing his lines from a sound stage while we were freezing our asses off in Slovakia," she laughs. "I was reacting to Rob Cohen doing his best impression of Sean Connery playing a dragon."
The role gave Dina the get chance to get medieval with an ax. "We went through three seasons in Slovakia. They flew us out in June or July. It was so hot! I had to learn how to ride a horse and do all that ax training. It was about two weeks of training in the hot summer sun, and then we shot for five months. It was winter when we were doing all that stuff in the castle at the end of the movie, and it was freezing!"
Dina won the part of Dizzy Flores (and the hearts of generations of sci-fi fans) in Starship Troopers. She was then cast as James Caan's wife in HBO's adaptation of Poodle Springs, directed by Bob Rafelson (The Postman Always Rings Twice) and written by Tom Stoppard (Shakespeare in Love, Enigma). "That was really cool," Dina says, "because I had just played three really tough female roles. There I was thinking, 'Oh my God, I'm kissing Sonny Corleone!'
"All of a sudden the way I looked at film-making changed," she adds thoughtfully. "It was no longer about special effects. Now it was about the acting and the words, whereas the first three films I did were primarily about the effects. With every job that I've had, I've walked away learning something new. You can only be responsible for what you do. And until I start producing and directing, I can only be responsible for the acting."
Dina is ready for anything. "I think I'd probably produce before I'd direct. But as I get deeper into acting, I find myself being more tuned in to direction, knowing how to set up a shot, knowing how I would give a performance or how I would want another actor to give a performance. I can see myself thinking on another level."
Nemesis marks her first step into the Star Trek world. "I'm not an avid fan, but I appreciate it and feel fortunate to be part of the franchise. I'm excited about the movie. My scenes were mostly with Tom Hardy and Ron Perlman. We had a great time. I didn't work with the Next Generation cast. My scenes with Patrick Stewart are on a view screen, so I acted opposite his playback."
Birds of Prey is a comic book adaptation with a new twist that debuts October 9 on The WB. The show follows the daughters of Batman and Commissioner Gordon, who take over crime-fighting in Gotham City after Batman mysteriously disappears. Dina plays Barbara Gordon, who used to be Batgirl until The Joker's bullet left her paralyzed from the waist down. She now fights crime as Oracle, whose mastery of computers and information makes her the most dangerous woman on the planet. Ashley Scott and Rachel Skarsten round out the cast.
"I got the script on a Wednesday night," Dina explains. "My manager called and said sorry, we've got this last-minute audition. It's like cramming for an exam. I had eight pages of dialogue I had to have ready for the following day. They gave me another scene while I was there. By the time I had driven from the audition to my manager's office, I knew I was testing the following day. I had the job half an hour after the test. Ashley and I read together and they liked the chemistry. We both had a nice reason to go out and celebrate on Friday night!"
Dina will never forget the first time she put on the Batgirl costume. "I felt like Batgirl! I grew up with DC Comics — Superman, Batman, Wonder Woman — so I grew up with these superheroes in my life and never actually thought I'd be playing one. It's very flattering for me to be part of this."
As Oracle, Dina shifts gears from ass-kicking babe to wheelchair-bound brain. "That's where Barbara Gordon and I are very much alike. She was fighting crime physically as Batgirl. I was acting very physically in most of the roles that I was playing, and now I'm not."
The wheelchair took some getting used to. "There are so many technical things we need to think about as actors when we're in a scene, like hitting our marks, not blocking your co-star's light, continuity, etc. You don't want to be thinking about those things, because you want to be as present in the scene as you can be. The wheelchair, then, is just another technical thing to think about. Is it going to respond when I want it to? Is it going to turn the way I want it to? When we act, when we speak, we gesture. We use our hands. We can walk away. With the wheelchair, I'm limited with my gesturing. When I do want to make a strong gesture, sometimes it doesn't happen when I want it to!"
For Oracle, the computer is mightier than the Bat-a-rang. "The fact that she can hack into anything and find out anything about anyone or anything is huge."
Dina has hacked into the considerable buzz already building on the internet. "Bat-fans can very passionate. There's a certain amount of pressure anyway when you're launching a show, because you want it to succeed and you want people to respond to it in a positive way. I'm trying to take into consideration what the fans are saying about the characters and how they feel about the changes being made. I'm going to take whatever I can from this research that I'm doing and apply it to the character and the way I play her. I'm not going to become a wimpy, whiny character, because Barbara Gordon is super strong. Her paralysis hasn't weakened her. It's actually made her stronger, and in a sense more powerful. It hasn't stood in the way of her fighting crime. She only fights it differently."
Batman, Catwoman, and The Joker appear in the pilot, but Dina isn't sure what other comic book characters might appear in later episodes. "A little birdie told me that Commissioner Gordon might appear," she teases, "but he won't know that she's Oracle."
Dina promises that fans will see a new side of her in Birds of Prey. "They're going to see me kicking ass in a new way. Not physically. They will see me in the Batgirl suit on occasion when we do Batgirl flashbacks. But they're going to see a different kind of strength than what they're used to seeing from me. This is more of an internal strength. I've played girls who are strong, but they're more tomboyish. Barbara Gordon is all woman. She's sexy, she's smart, she's strong, she's fit. They're going to have enough scenes of me working out and training in my own way that fans will see that she has maintained her strength."
Dina is confident that Bat-fans will be pleased with the show. "Aside from it looking really cool, I think they're going to dig the relationships and how these superheroes act when they're not superheroes. You'll get super-cool bad guys and fight scenes and neat effects. I'm extremely excited."
She also thinks Barbara Gordon will be one of her most challenging roles. "This is going to be one of the most difficult because of all her internal conflicts. You have to be able to portray someone who was shot, to have that nightmare stuck inside your head, and then to not be able to fight crime the way you were fighting it before. You have to have all of that history inside of you while being Oracle, as opposed to saying, 'This happened and I'm over it.' I don't want to be over it. She's not over it. I want to make sure I can bring all of that history to the present Barbara Gordon. I want people to see that she's still being affected by it, but has risen above it. It's like having the emotion but sitting on it, and letting it come out in very subtle ways. That's the difference between 'acting' and 'acting out.' There's a way to be sad within a scene without actually acting like you're sad. That's what's going to be really challenging."
The WB has already ordered 13 episodes. "Hopefully before Christmas we'll get picked up for the back nine. As it stands I'm working until January. I haven't thought much about what's happening after that." If Dina's previous work is any indication, I'm willing to bet it'll be something extraordinary.