After some of the scenes they shared in the first eight episodes of AMC's fifth and final season of BREAKING BAD that aired this summer (with the final batch not showing up until next year, unfortunately), Bryan Cranston and Jonathan Banks are getting the chance to shine with some lighter, brighter material for the Peacock.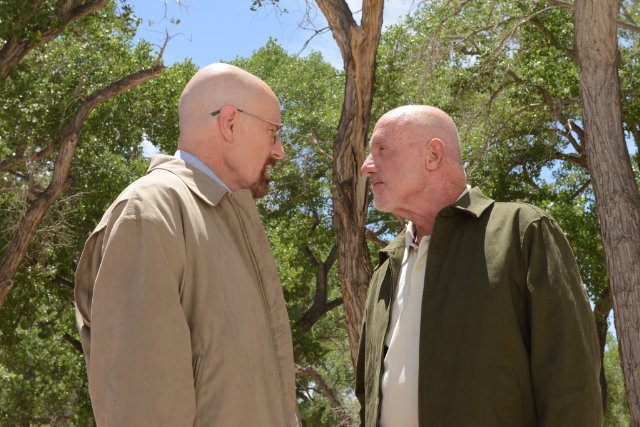 Remember all those times on 30 ROCK when Kenneth tells uncomfortable stories about "my mom's friend Ron" that are hilarious only to us? We'll meet his mom's "friend" Ron on tonight's episode, and he'll be played by … Cranston!
Cranston, of course, is no stranger to being funny, having done memorable work as Jerry's dentist, Dr. Tim Whatley, in a handful of episodes of SEINFELD, followed by a long run as the dad on the Fox comedy MALCOLM IN THE MIDDLE.
Equally excellent is the casting of comedy queen Catherine O'Hara as Ron's "friend," Kenneth's mom. TV Guide was the first to report the news, with TV Line debuting the first clip earlier this week.
And this isn't the only gig Cranston's had at NBC lately; he recently directed an episode of THE OFFICE called "Work Bus" that airs next Thursday, October 18. You can read a great interview over at CTV where he talks about what he's been up to as BREAKING BAD winds down.
Meanwhile, in Pawnee, Indiana, the creators of PARKS AND RECREATION were looking for someone to play the father of Adam Scott's Ben Wyatt in the November 1 episode, "Ben's Parents." They found him in Jonathan Banks, whose BREAKING BAD character, Mike Ehrmantraut, is a fixer with a heart of gold for his granddaughter and a bag of murder for everyone else (even though I've particularly enjoyed watching Mike's progression from contempt to sincere respect for Aaron Paul's Jesse Pinkman). Alan Sepinwall got the exclusive news for HitFix, with PARKS co-creator Mike Schur sounding more than a little starstruck:
"We were working the character description of Ben's dad," explains PARKS co-creator Mike Schur, "and I said aloud, 'He should act like Mike Ehrmentraut.' So somebody said, 'Well, why can't we just get Jonathan Banks?'"

Schur is a huge BREAKING BAD fan, as are the rest of his writers.

"To me, at this exactly moment in time, he's everyone I know's favorite actor," says Schur. "After that arc" — which I spoke to Banks about here — "he's the actor about which we've spent the most time talking in the room over the last year. It's awesome. He's going to be here at 2 p.m. today and everyone's geeking out. A lot of the writers are coming up with reasons to be down on the set today."
I blanked out Sepinwall's link about his interview with Banks in the quote above because it contains huge BREAKING BAD spoilers in its title alone. If you're all caught up on the show, you can read it here, but don't go near that link if you're still catching up on DVD or DVR.
(TV Guide got an exclusive of their own by reporting that Glenne Headly will play Ben's mom, along with some details about the episode's plot.)
I love 30 ROCK and PARKS, and anything that gets these guys on TV while I'm waiting for the last eight hours of BREAKING BAD is fine with me. And don't forget to catch Cranston in Ben Affleck's ARGO, which opens this weekend!