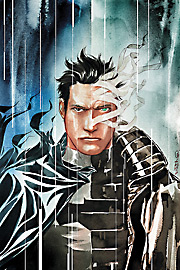 Click on over to Batman on Film to read my review of Streets of Gotham #18.
If you're only reading this for Paul Dini's Heart of Hush sequel, House of Hush, you're probably better off waiting for a collected edition as this 30-page issue only contains 10 pages of Batman.
The rest of the book is dedicated to the Ragman story which, despite being written and drawn well, really doesn't make me care any more about Ragman.
At the end of the day, $3.99 is an awfully lot to ask for just 10 pages of Batman (even though Batman is Bruce Wayne and he's being written by Paul Dini — the master being written by a master).
There's been some speculation about this book's future, with DC's March 2011 solicitation schedule released to Newsarama and Comic Book Resources declaring #21 (on March 23) as the final issue. The cancellation notice arrived after Dini told Newsarama in this interview that he's been working on this year's stories for the book. (The interview was published after the solicitations but conducted before them.)
So … is it canceled or not? DC's page for issue #21 doesn't say it's the final issue, but DC also doesn't declare Batman Confidential #54 as the final issue of that book, either, so for now I think we can consider Streets canceled until further notice.
I won't miss Confidential (which should have been put out of its misery a long time ago), but I'll miss Dini writing a Batman book. We need him now more than ever.