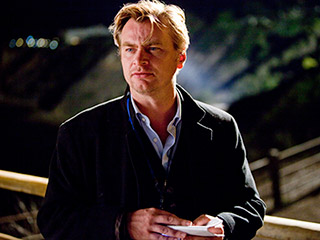 I'm a few days behind on most of these, which is why you're far better off bookmarking my good friend (and sometimes boss) Bill "Jett" Ramey at Batman on Film for all the news on The Dark Knight Rises.
I recently posted a couple of interviews with Christian Bale (here and here) in which he shares his excitement for playing Batman again and says it's his last time wearing the cape as far as he knows, but that it really depends on whether writer/director Christopher Nolan will come back to Gotham City after The Dark Knight Rises. Nearly every website on the planet was falling all over itself to misquote Bale and make it sound like he said he'd never play Batman again after his third go, when that's not what he said at all. Oh, well. The press hasn't exactly been good to the man these last few years.
But now Nolan himself has weighed in on the subject, and here's what he said to Entertainment Weekly:
When the helmer was asked if any part of him wished he was tackling another original script instead of another Batman sequel in the wake of Inception's blockbuster grosses (over $820 million worldwide) and Oscar buzz, Nolan replied: "No, it's exactly the opposite. I feel very glad that I'm doing another Batman film. I think it would have been daunting to sit down and write an original script after Inception. I love working within the realm and rules of our Batman world. It's kind of nice to have someplace to go that I'm super-excited about." He added that Inception's success allows him to tackle another Batman without any sense of needing to prove himself: "I must say that I'm glad — I'm very, very glad — to be embarking on the last chapter of our Batman saga without any sense of obligation or duty to the studio. They did very well with Inception. So I'm able to go into finishing our story in a very enthusiastic way."
Nolan says Rises is "the last chapter of our Batman saga" and that he's "super-excited" about "finishing our story in a very enthusiastic way." This is all very good news. If I had my way, Nolan and Bale and their team would still be making Batman movies when Bale was 64, but all good things must come to an end, and it's always best to go out on top. The amount of enthusiasm we're hearing from both Nolan and Bale can only amount to good things for this last final movie.
Unless, of course, Nolan changes his mind. It's not likely given all the ideas floating around in his head that he's bound to be itching to turn into films, but you never know.
He also mentions the possibility of revisiting the world of Inception at some point, too, and talks about the solid possibility of a video game set in that world.
And then there's that asinine rumor going around that Heath Ledger would somehow appear in the next movie via CGI or unused footage or a mixture of both. Nolan and his wife and producing partner, Emma Thomas, simply and succinctly ended that ridiculous speculation in a chat with The Hollywood Reporter:
At an awards season party last night for Inception, we asked the filmmaker about a report on a New Zealand website saying that Nolan and Warner Bros. were thinking of inserting unused footage of Ledger as the Joker into the movie. As with anything connected to Batman and Nolan, the rumor quickly spread around the globe.

But Nolan and his wife/producing partner Emma Thomas both swatted down the rumor to Heat Vision in a chat last night.

"I heard the rumor," said Thomas. "We're not doing that."

Nolan also denied that Ledger would show up in the new film. The script isn't even completed yet, he said, and Nolan believes that Ledger's performance as the Joker should be contained to the 2008 movie.
He's only had to say that about a dozen times now. Hopefully that will be the last.
Meanwhile, HitFix got some good bits from him last week at a party thrown by Warner Bros. to celebrate what was then the impending DVD and Blu-Ray release of Inception. (It came out yesterday. And it's awesome. But more about that later.)
Per their article:
Moreover, he also finds it hard to believe so many fans think he's written, cast, shot and finished his films before he's even started. In particular, "The Dark Knight Rises" at the moment, where he's still just finishing the screenplay and hasn't finished casting at all. And make it clear Batman fans, this wasn't Nolan just being humble for the sake of the press, he really thinks you all might be giving him just a bit too much credit. His films come together during the production and editing process and he's certainly not thinking of what he'll do after "Rises." That's the furthest thing from his admittedly one track mind at the moment.

Lastly, I joked with Nolan about his Batman muse Christian Bale who told the press recently he doesn't believe anything about future "Dark Knight" movies until it comes out his director's mouth. Nolan sadly hasn't gotten a chance to see Bale's amazing turn in "The Fighter" yet, but he did reveal he keeps Bale pretty up to date with what's going on. So, perhaps it's Bale that's being decidedly mum?
Nolan penned the script with his brother, Jonathan, who co-wrote The Dark Knight with him from a story crafted by Nolan and David S. Goyer (who also co-wrote Batman Begins and most recently collaborated with Nolan again on the upcoming Superman movie directed by Zack Snyder).
Thompson on Hollywood chimes in with a little more detail about the process and place, though Nolan remains all the way mum about the character he's hired Tom Hardy to play:
But in the real world, this goal proved elusive. Nolan, bearded and affable, explained that he's scrambling to finish the script for The Dark Knight Rises, his third Batman movie, which he's writing in collaboration with his brother Jonathan, mostly from his oceanfront abode in Malibu. The script is due in January for a July release. But he wouldn't say what the story's about or who the villain is, other than to confirm that Inception's Tom Hardy will play "a key role, not saying good or bad," and to shoot down reports that he'll resurrect The Joker by including unused footage of Heath Ledger's performance in the previous chapter. "That's all wrong," said the writer-director, who's also producing the next Superman movie, for Zack Snyder to direct.
Finally, there comes word that the script has now been turned in to Warner Bros.
Via BOF, David S. Cohen from Variety put the following on Twitter this past Saturday:
Chris Nolan told me his The Dark Knight Rises script is due Monday or he's in big trouble. Big trouble? What can they do? Fire him?
Frequent Nolan interviewer Geoff Boucher (from Hero Complex) also got in on the Twitter game by shooting down earlier report that the movie might film some scenes in New Orleans. According to Variety, "Helmer Chris Nolan will return to his usual airship hangar in Cardington to shoot the next Batman."
Pre-production is said to begin in March with filming commencing in May.
The full mysteries of The Dark Knight Rises won't be revealed until July 20, 2012, but keep your eyes on Batman on Film for all the best news until then. No one will give you the same levels of enthusiasm and integrity you'll get from Bill and his team. Which I still can't believe includes me.