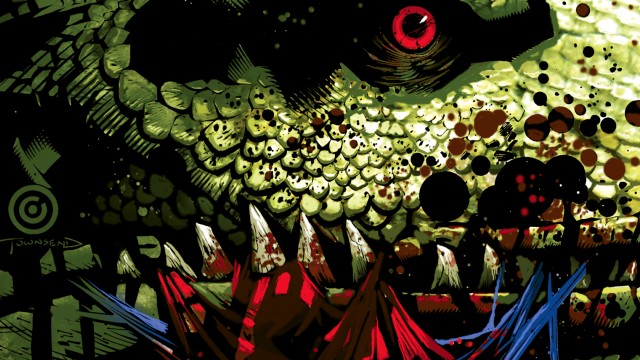 We've already talked about Rhys Ifans being cast in the reboot and the higher-than-high likelihood he'll be playing The Lizard. Now Ifans is talking about it, too, at least as much as he can.
While discussing his role as Captain Hook in an upcoming TV movie called Neverland, Ifans spilled a few carefully chosen beans to the Associated Press about his role in Spider-Man:
"I'm constantly suppressing a very wide smile," Ifans told The Associated Press.

The 43-year-old actor is not allowed to talk about his role as the baddie in the web-slinging comic book adventure, but said he's "very, very excited about it.

"It's a great script, great director and the money ain't bad," he said.

Ifans may be best known for playing as Hugh Grant's oddball roommate in 1999's "Notting Hill." Recent credits include "Pirate Radio" and "Greenberg" opposite Ben Stiller.

Ifans will be starring opposite American-born and British-raised Andrew Garfield, who is taking over as Peter Parker.

"It is quite cool this one, to have Spider-Man and his villain both from the U.K.," Ifans said.
Let's just go ahead and note that Anna Friel, who stole my heart as Charlotte "Chuck" Charles in Pushing Daisies and still hasn't given it back, stars alongside Ifans in Neverland as "a power-mad pirate and seductress." Yeah. I'm totally going to need to see this movie.
Meanwhile, while reading about the Martin Sheen/Uncle Ben announcement on Think McFly Think, I followed a link to a story on The Wrap suggesting that Mary Jane Watson won't be in the new movie at all because the producers feel that Emma Stone's Gwen Stacy will be enough.
Kirsten Dunst played Mary Jane in Sam Raimi's three movies, though Raimi's vision of Mary Jane wasn't quite in line with the Mary Jane of the comics. Which never bothered me at all, because I like Dunst, but this new series of films aims to do things differently, and starting off with Peter pining of his first true love from the comics is a good start. Especially when Gwen is being played by the infinitely pine-worthy Emma Stone.
I know I said when Garfield was cast that I didn't care about this movie, but now that I've seen Garfield in action as an actor, and now that Emma Stone is in it, and now that the supporting cast keeps getting filled out with more and more magnificent talent, I'm finding I'm a lot more willing to go swinging with Spider-Man again than I originally thought.
And I like that feeling.