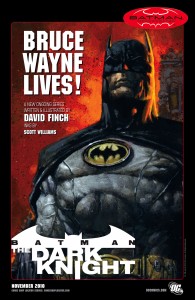 It's been a long time since Bruce Wayne was Batman in the pages of DC Comics; Scottish madman Grant Morrison banished him to the bowels of space and time in the pages of the gimmicky crossover "event" Final Crisis, and the original Robin, Dick Grayson, has been filling in as the Dark Knight ever since.
Bruce returns to Gotham City in November, but Dick Grayson will remain as Batman in the Detective Comics (which introduced Batman in 1939), Batman (which began in 1940), and Batman and Robin books, while Bruce will only be back as Batman in two new titles — Batman, Inc. and Batman: The Dark Knight.
So basically, Bruce won't be returning to everything we've been waiting for him to return to, and he'll also be appearing in two fewer pages of the two titles he's been banished to now that DC's trying to trick us all into thinking they've lowered prices by replacing two pages of story with two more pages of ads.
You can read my thoughts about all of this on Batman on Film, created and edited by Bill "Jett" Ramey, the hardest working Batman fan on the planet. As always, I can't thank him enough for the opportunity!