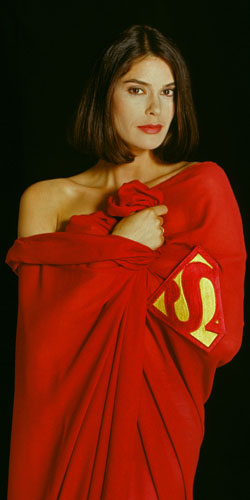 Once upon a time in the 1990s, the famous Lois and Clark: The New Adventures of Superman promotional image of Lois wearing nothing but Superman's cape made Teri Hatcher the most downloaded woman on the Internet.
(I can attest to this, as I was downloading her a lot in those days.)
The bounce in Hatcher's hair, the luscious lines of her curves, the intelligent smolder behind her dark eyes, and the fire behind her killer smile were matched only by the wit and charm she brought to the role.
(And I can still stare at that bare, barely caped shoulder for hours.)
Teri was absolutely the right Lois Lane for the time, and her portrayal remains one of the most deservedly recognized and revered incarnations of the classic character.
The Lois Lane nearest and dearest to my own heart is played every week by Erica Durance on Smallville. She's just absolutely one of the most strikingly beautiful and sexy women I've ever seen in my life, and she has the spark, the humor, and the charisma to back all that gorgeousness up.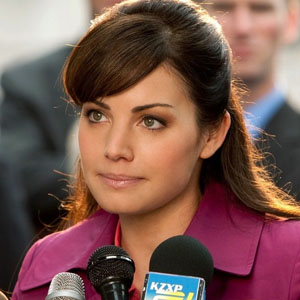 (I'd give anything to see Erica and Smallville's Clark, Tom Welling, on the big screen in the upcoming Superman movie, but it's just not meant to be. Which is fine, because the Blu-Rays look spectacular, and the recently released ninth season was full of lots of awesome little Superman movies anyway. )
And now my worlds of once and present Lois love are colliding, as Teri Hatcher has signed on to play Lois's mom, Ella Lane, in "Abandoned," the eight episode of the show's current (and reportedly final) 10th season. While no exact date has been nailed down, it's due to air sometime in November.
Don't worry about the math that makes Teri only 13 years older than Erica — the plot revolves about Lois discovering some old videotapes of her late mother, and that's how (and where) Hatcher will appear. (Which is probably for the best, since I don't know if I'd survive both of these women in the same scene.)
The episode also features the return of Lois's dad, General Sam Lane, and sister, Lucy Lane, played by genre legend Michael Ironside and Peyton List (who also plays Roger's trophy wife, Jane, on Mad Men).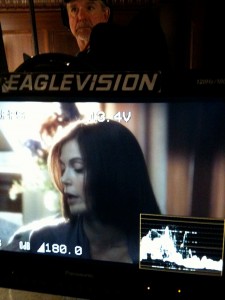 Hatcher recently posted this photo from the Smallville set on her Facebook page; click it to go to there and see it full size.
She writes, "I shot my Smallville part. While I'm sworn to secrecy, I can tell you that it was a blast from the past and it was with love in my heart that I tried to deliver something that served the part, honored the show in its 10th season, and gave a tip of the hat to all the deserved fans who've supported me all these years. Many thanks. It was lots of fun. Check out this photo from the set. Can you believe it? Ah…Lois. I love Susan but I've missed you:) Stay tuned for info and air dates."
(Susan, of course, being her character on Desperate Housewives.)
As it turns out, Erica Durance is really excited about it, too, expressing an adorable amount of happiness at the end of this video interview:
"I was in shooting another scene at the time, and it was supposed to be a really funny scene, and I got the text and I burst into tears," Durance told Zap2It reporter Carina Adley MacKenzie about the moment she found out. "I had an absolute, unequivocal fan moment! I'm thrilled!"
Oh, Erica! If only we could be thrilled together.
I'll update with the air date when they announce it!
I think it's absolutely awesome that Teri is doing this. Her career certainly doesn't need the boost, and it says a lot about how much she loved playing Lois and how much she appreciates the fans and the Superman legacy.
---
Trivia
Hatcher's own Clark Kent, Dean Cain, previously appeared in the episode "Cure."