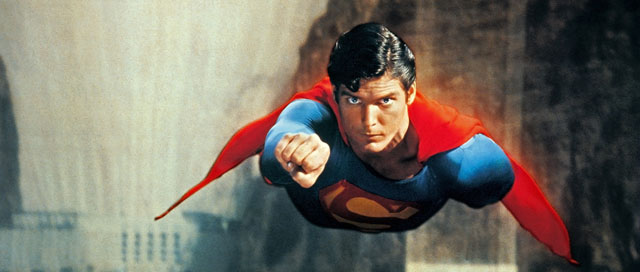 Everyone who knows me knows that when it comes to superhero movies, I'm a Batman guy.
I've always wanted to be a Superman guy, too, but Hollywood has been working against me ever since Superman: The Movie in 1978. Creative differences replaced director Richard Donner with Richard Lester during filming of Superman II, and though I love that film dearly, both Donner's version (released in 2006) and Lester's version have their fair shares of flaws. Superman III put comedy before courage, and Superman IV: The Quest for Peace, regardless of how firmly it held its heart in the right place, lost its own internal battle over which was lower — its budget or the quality of its screenplay.
But none of those things could lessen the thrill of watching Christopher Reeve as the Man of Steel. He was Superman, and he never gave us anything less than everything. How could anyone even come close to recreating the magic that happened when he pulled on that cape?
Bryan Singer, coming off the heels of two wildly successful X-Men movies for Twentieth Century Fox, seemed like the perfect choice to reinvigorate Superman for a new generation when he jumped ship to Warner Bros. to make Superman Returns, which opened in the summer of 2006. It's in the best interests of my health that I don't speak of it anymore, so I'll refer you to my original review here.
(This doesn't even begin to take into account all of the terrible Superman movies that almost got made; if you're at all interested in the subject, I suggest you read this book. It will blow your mind and scar your soul.)
As the years since Superman Returns flew by, I often wondered why Superman couldn't get the thoughtful, thorough kind of reinvigoration that Batman was getting on film courtesy of writer/director Christopher Nolan. And suddenly the big news came earlier this year that Nolan would "godfather" a new silver-screen incarnation of Superman to fruition, producing a story he'd crafted with David Goyer, with whom he'd co-written Batman Begins and concocted the story that he and his brother Jonathan Nolan would use to write the script for The Dark Knight.
Take a few minutes to read this outrageously awesome article by Geoff Boucher at Hero Complex.
Favorite quote?
"It's very exciting; we have a fantastic story," Christopher Nolan said while sipping tea in the sleek editing suite that fills the converted garage next to his Hollywood home. "And we feel we can do it right. We know the milieu, if you will, we know the genre and how to get it done right."
Have your guts stopped doing happy somersaults yet?
Okay. Moving on.
Nolan always keeps information about his films close to the chest, and Superman would be no different. But even though story details remained (and still remain) elusive, word broke late last month about the list of directors Nolan was considering for the job — Matt Reeves (Cloverfield, Let Me In), Duncan Jones (Moon), Zack Snyder (300, Watchmen), Tony Scott (who's directed lots of things), and Jonathan Liebsman (who seemed an unlikely choice since he'll soon have his hands full making Warner Bros.' sequel to Clash of the Titans).
Of that initial list, the candidate who excited me the most was Duncan Jones, who, for trivia's sake, is David Bowie's son. (While we're talking trivia, Bowie played a vampire for Tony Scott in The Hunger in 1983.) If you haven't seen Moon, please do. Sam Rockwell plays a miner on the moon who can't wait to get back to his family on Earth. But mere days before his three-year contract is up, something happens, and … that's all you need to know. In fact, that's probably too much. Just watch it, and please don't read another word about it.
Moon was made on a small budget but looks fantastic; Jones not only made the most of monetary limitations but also proved himself an excellent storyteller and a true actor's director, coaxing a phenomenal performance out of Rockwell (who, in all fairness, knows how to be phenomenal all on his own).
A few days later, two more names popped up on the list — Darren Aronofsky (Requiem for a Dream, The Fountain, The Wrestler) and Ben Affleck (Gone Baby Gone, The Town). The very thought of Aronofsky terrified me, especially given what he wanted to with Batman before Nolan got the gig. Affleck, on the other hand, immediately rocketed to the top of my list — both of his films are exceedingly well made, and he's deftly able to blend character, story, and heart.
But the name on the list that made the most sense was always Zack Snyder, who's no stranger to making living, breathing comic books for Warner Bros. — 300 is a grainy, gritty, brutal bit of highly quotable war porn, and though Watchmen didn't quite bring home all of the original comic's staggering complexities, it represented a labor of love and skill that would have left any other filmmaker weeping over where to even begin. He's currently finishing Sucker Punch for the studio, which looks like Girl, Interrupted meets Kill Bill meets The Matrix meets about 47 other classic comic, pulp, and fantasy elements drawn randomly from a hat and filmed with great imagination and technical craft. (Check out the trailer here.)
And so the announcement came yesterday that Snyder had won the Superman gig, with the director enthusiastically declaring that he'd begin working on Superman as soon as he'd finished Sucker Punch.
I've been pounding the pavement to collect as many of Snyder's quotes about the job as I can. I've only included the relevant bits; please click the links to read each original article in its entirety.
From Deadline New York:
"I've been a big fan of the character for a long time, he's definitely the king of all superheroes, he's the one."
"It's early yet, but I can tell you that what David and Chris have done with the story so far definitely has given me a great insight into a way to make him feel modern. I've always felt he was kind of awesome. I'll finish Sucker Punch and get right at it."
From Heat Vision:
"The character deserves to be loved. It's his time."
From MTV:
"All I'll say is that those guys — Chris and David — have created an amazing story. The 'Why [remake] Superman?' is definitely being looked at with care, that's all I could hope for as a director."
"Everyone always says, 'Why Superman? Why is he relevant? Who is he now?' I think those guys have done an amazing job with that. That's the real trick."
On hoping Nolan will be heavily involved: "I have a lot of respect for him. I would think that he would be."
From Entertainment Weekly:
"Think of where Batman was when Chris took that on earlier in the decade. I think Superman is in a very similar place, in terms of being available and in terms of his relationship to where the culture was at that time. Superman is right there. He's ready. And can I be any more cryptic?"
From USA Today:
He says the script is "really cool. I can't give away anything about it, but I liked it right away."
On the responsibility of getting it right this time: "We're well aware," Snyder says, "that we've opened a big can of worms."
I like what I'm hearing so far! Congratulations, Mr. Snyder, as you and Mr. Nolan embark on a grand cinematic mission to remind us why the Man of Steel still matters.
I want it to be big and fun and colorful and romantic and inspiring and packed with enormous action. It want it to make every kid in America pin on a towel for a cape and run around pretending to fly, the way that Christopher Reeve inspired me to do more than 30 years ago.
I want it to make the world remember why Superman speaks to the best in all of us, even as he does battle with the worst.
And as long as everything goes according to plan, he'll be landing in a theater near you on Christmas 2012!
(Photo credit: CapedWonder)